In True Loki Fashion, Tom Hiddleston Plays Coy Over 'Avengers 4' Return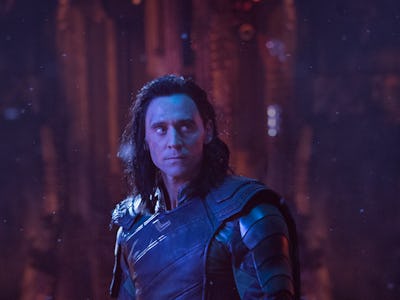 Marvel Entertainment
No one outside the hallowed halls of Marvel knows if Tom Hiddleston's Loki will return in Avengers 4. Except for maybe Tom Hiddleston himself.
During a panel at ACE Comic Con in Chicago on Sunday, Marvel star Tom Hiddleston playfully refused to reveal the true fate of his character Loki, who was seemingly killed by Thanos (Josh Brolin) in Avengers: Infinity War. Because Loki is a trickster god from Asgard who has faked his death before, fans find it difficult to actually buy whether or not Loki is done-zo.
Hiddleston isn't helping matters. "Your guess is as good as mine," he told fans at the panel.
When asked about Loki's death during a Q&A, Hiddleston responded: "Listen, I've heard some amazing theories about this. I was in a park in London a couple of weeks ago, and some guys came and said hi, and they asked me the same question."
He continued, "They said, 'Hey, listen, we need an answer to this question. All the other times Loki's died' — there's been a few — 'he stabs with his right hand. And now he's stabbing with his left hand.' I was like, 'That's incredible attention to detail.'"
It's a detail that Hiddleston reveals he didn't even know about when filming, so you can pretty much ignore that for clues.
So is Loki dead? Hard to say! As far as Avengers: Infinity War is concerned, Loki is dead, as his murder establishes the fearsome power of Thanos. It really means something that the villain of 2012's The Avengers can be overpowered so easily.
But with the superhero medium being what it is, it's hard to buy if Loki's death will last forever — if even through next year's Avengers 4. Rumors of new Marvel television shows with Hiddleston reprising Loki surround Disney's proposed streaming service, a new subscription platform that will include original Disney shows such as Jon Favreau's live-action Star Wars series The Mandalorian.
So we'll probably see Tom Hiddleston's Loki again eventually. It may just be a question of when.
Loki is probably not going to return in Avengers 4, which hits theaters on May 3, 2019.