Music Video Analysis Shows Why Big Tobacco Loves Hip Hop More Than Ever
Has DJ Khaled become the new Joe Camel?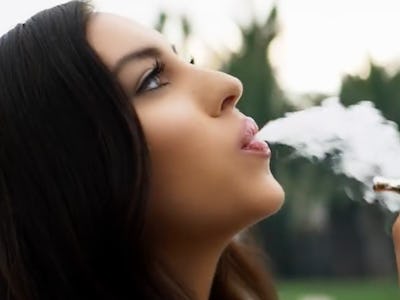 Youtube/VEVO
Rappers have been lighting up in music videos for decades, but lately, tobacco and e-cigarette companies have cashed in on it. In the last four years, tobacco and vape manufacturers have been sliding their products into more and more music videos, scientists report in an investigation published Monday in JAMA Internal Medicine. The rise is particularly pronounced in hip-hop and rap videos, which the authors say is linked to Big Tobacco's historic targeting of minority groups.
In the paper, Kristin Knutzen, M.P.H. and her team explicitly calls the industry out on this practice.
Between 2013 and 2017, Knutzen, a research project coordinator at the Dartmouth Institute for Health Policy and Clinical Practice, observed that the frequency of branded combustible products — cigarettes, cigars, joints, and so on — appearing in rap music videos on Billboard magazine's weekly Hot R&B/Hip Hop Songs list jumped from zero to 9.9 percent. Meanwhile, the frequency of branded electronic products increased from 25 to 87.5 percent. Altogether, they analyzed 769 music videos.
"We chose to look at hip-hop given the high proportion of minority fans compared to other genres, and the historic targeting of minority groups by big tobacco companies," Knutzen tells Inverse. "We are concerned that the unregulated nature of brand placement in hip-hop music videos gives tobacco and marijuana companies a modern-day means by which to target these minority groups."
Historically, public health researchers have found compelling evidence that tobacco companies target minority neighborhoods with ad campaigns. In 1969, federal law banned tobacco companies from advertising on TV and radio, and concurrently, researchers at Harvard's T.H. Chan School of Public Health observed an increase in the amount of tobacco-related signage found in convenience stores in Boston neighborhoods with high minority populations. Music videos, Knutzen and her team argue in the new paper, have given tobacco companies a way back into a form of media that is particularly relevant to minority teenagers and teens in general.
In the paper, the authors point to one of 2016's top songs: DJ Khaled's "I'm the One" featuring Justin Bieber, Quavo, Chance the Rapper, and Lil Wayne. That video, which has over one billion views on YouTube, features obvious product placement of Beats headphones and Supreme products. But there's also a clear image of a Wonder Woman lookalike taking a pull from a Kandypen vape at 1:22.
The paper highlights that Google — YouTube's parent company — has strict tobacco advertising restrictions, but because of First Amendment protection, they can't always restrict the actual content of the videos themselves (unless they rise to the level of pornography or copyright infringement). Further confounding attempts to restrict the appearance of tobacco products, it's not actually clear whether the product's appearance was paid for by the vape manufacturer or was simply creative license on the part of DJ Khaled.
Creative expression is protected by the First Amendment's right to free speech, so there's nothing legally wrong with vaping in a music video because a rapper wants to. But if it's a paid endorsement, then these videos would have to carry the surgeon general's usual warning statements about the risks of tobacco.
That being said, there are examples of e-cigarette brands sneaking around Google's ban by paying YouTube creators for product reviews. Given the increase in teen vaping in recent years, this trend has led the FDA to crack down on the way e-cigarettes are advertised. As part of this effort, the FDA is building a case that e-cigarettes are being intentionally marketed to minors. Knutzen says her paper can lend credence to this idea.
"The use of tobacco and marijuana in music videos by popular hip-hop artists can reach millions of youth through music videos viewed billions of times on sites such as YouTube," she says. "We hope that the patterns we have identified change how the FDA regulates advertising of e-cigarettes and other newly covered tobacco products."