Should You Care About New OVO Sound Signing Roy Wood$?
Drake's promising new OVO Sound signee.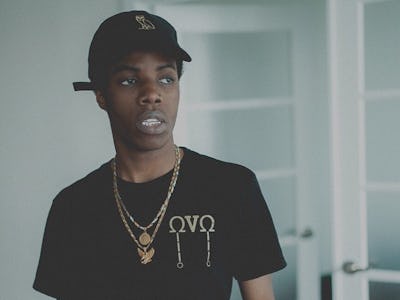 Roy Woods Instagram (@roywoods)
During the second episode of "OVO Sound Radio," Drake premiered a song called "Drama" by little-known Toronto rapper/singer Roy Wood$. "Drama" (featuring Drake) is from Wood$'s upcoming debut EP, EXIS, which is scheduled to drop tomorrow.
Roy Wood$'s OVO Sound cosign makes him a prime candidate for an imminent breakout, but who is he? Including "Drama" and "Get You Good" – another radio premiere – Wood$ now has six original songs on his SoundCloud. In an April interview with Noisey, Wood$ says that his first freestyles were about girls and past relationships – Drake's calling card – while others repped the streets.
He also reveals that he grew up listening to a lot of Michael Jackson, memorizing his lyrics as a kid. The influence shows on "All of You," a track that finds Wood$ straining his voice to get his best MJ imitation.
His lyrics, however, indicate he may have spent just as much time with the Weeknd's 2011 "Dirty Diana" cover, "D.D." Lines like, "It's 3:33 in the 6 on our way to the party," aren't quite as lurid as the Weeknd's but exist in the same late-night, bleary-eyed realm.
Roy Wood$ is working within an established sound. Noah "40" Shebib's bass-heavy, ambient, atmospheric vibe has quickly spread throughout Toronto. But even on his first single from September '14, "I Got," Wood$ sounds comfortable.
With an instantly recognizable mood, Wood$ must now live up to his forebears by creating a niche within the scene.