Everything Continues to Go Horribly Wrong for Natalie Portman's 'Jane Got A Gun'
It's all gone a bit Pete Tong.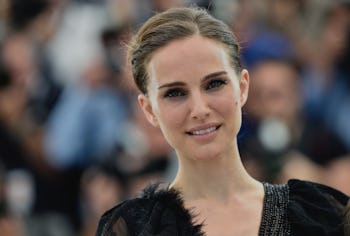 Stories about nightmarish movie sets are nothing new. Same goes for development hell and troubled productions. For Jane Got A Gun, quite possibly everything that could go wrong went wrong. And this week, things took a further nosedive as its distributor, Relativity Media, on the verge of bankruptcy, bailed on the movie. Probably the only good thing to befall Relativity during this stressful period of financial dire straits was the chance to offload this cursed western.
And it all started out so promisingly.
Two-and-a-half years ago, 150 cast and crew members assembled in Santa Fe, New Mexico to shoot the small indie western. Natalie Portman was cast as Jane, a woman who fends off a bunch of vengeful thugs after her husband returns home plugged full of lead. As the plot unfolds she turns to a former flame to help threaten the gang, played by Michael Fassbender. Or, he was to be played by the lean thesp, until his commitments on X-Men yanked him away from proceedings. Strike one.
Scheduling problems arise, oft times when a shoot gets pushed back, so it's remarkable that any of the actors managed to cling to the waterlogged remnants of this ship as it careened to the murky depths. With Fassbender out, Joel Edgerton - who had been cast as the villain - shifted over to that role and Jude Law hopped on to play the baddie. Shortly after that little reshuffle, everything looked rosy.
Then director Lynne Ramsay just didn't show up to work on the first day of shooting. Or the second. The old maxim "Start as you mean to go on" truly took hold of the film from thereon out as bad luck spread into every faction of its existence. Like a virus intent on movie sabotage (where was it when Pixels went into production?) everything fell spectacularly to pieces. Ramsay's contract included a stipulation providing her with a paycheck even if the film isn't completed. So, producers scrambled (industry term for losing one's shit as things fall apart) to find an affordable replacement and convinced Gavin O'Connor, who did the brilliant Warrior, to take over. Then Jude Law left, stating that his employ hinged on working with Ramsay. No Lynne, no Law. Strikes two and three.
Then - this just gets better - reports started sprouting up all over the web giving backstory to Ramsay's exit. Apparently it wasn't sudden but the result of a three-day feud with producer Scott Steindorff over script changes (she was still deep in rewrites) and the fact she had not been given a proper shooting schedule or budgetary outline. She wanted to amend part of her contract to grant her final cut no matter what (originally, it was only hers if she brought it in under budget and ahead of schedule), and the producers just weren't interested in appeasing her demands. Which weren't that out of the ordinary for a celebrated filmmaker. She had just received tons of acclaim for creating one of the most talked-about movies of the decade. Why not cut her some slack? In any case, turns out she left the movie three days before the shoot. But the way she did it was a little unprofessional - as she didn't tell any of her cast or crew.
In the weeks that followed there was more of the same. The cinematographer left and was replaced. A new screenwriter was drafted in. Bradley Cooper came aboard to replace Jude Law… then left shortly after. He was replaced by Ewan McGregor who managed to withstand the insanity and shoot his scenes. I don't know how many strikes we're up to.
Even with the film in the can, it didn't end there.
Fast forward to November 2013. The producers, including Portman, filed a lawsuit against Ramsay for pocketing $750,000 (which it sounds like she was contractually entitled to, but whatever) without directing a single shot, getting utterly plastered during rehearsals, pointing prop guns at people, and being 'generally being abusive.' Wait, isn't that what movies are supposed to be like? She denied the allegations and later the whole thing was settled out of court in March 2014.
The film's release date was to be August 29, 2014. Whether it was a financial issue, or post-production struggles, or the movie's simply been grazed by a ton of bad luck, that date was pushed to February 20, 2015, and then September 4. Now that Relativity has gone mammaries skyward leaving Jane homeless, there's no date whatsoever on the schedule for it. Apparently The Weinstein Company might step in and save it but there's no guarantees there. So, here's two suggestions that the producers of Jane Got A Gun can use to salvage what's left of this ill-fated indie:
1. Make a movie about the production Suggested title: Jane Got A Gun But No Cast, Crew or Distributor. Made in a super-meta way. Get all of the cast back to play fictionalised versions of themselves. Like Wes Craven's New Nightmare. While we're at it, might as well throw Freddy Krueger in there as well.
2. NETFLIX