Bowsette and Waluigi: Nintendo's Unsung Heroes Shine in NYCC 2018 Cosplay
Also: Inspector Gadget, Dr. Zaius, and more.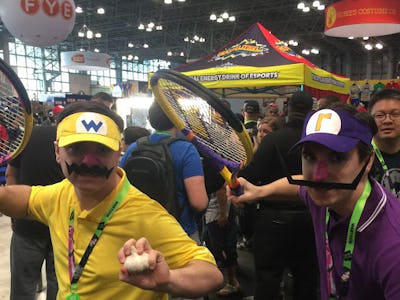 Inverse
New York Comic Con 2018 is in full swing, and you know what that means: Cosplay! Over the past few days, we've been scouring the show floor for the latest cosplay trends and one thing seems clear: People love Waluigi, even if Nintendo doesn't. Also, Bowsette is definitely still a thing.
Here's a look at some of the best cosplay from NYCC 2018, starting with a couple of Waluigi fans who refuse to give up on Nintendo's downtrodden villain. Even if he never makes it into Super Smash Bros. as a playable character, at least Waluigi gets his chance to shine at the Con.
Even more popular than Waluigi this year is Bowsette, a new fan-creation that's basically a demented mashup of Bowser and Peach. It all started in September when Nintendo revealed a new character called Peachette who's created when Toadette puts on a special new Super Crown item. It didn't take long for fans to apply the same logic to Bowser, which brings us to Bowsette.
Bowsette has pretty much been unavoidable online ever since. So it's no surprise that the character was all over the place at NYCC 2018. Here's a look at some of the best Bowsette cosplay so far.
Here are a few more Bowsette cosplayers, via Twitter:
Beyond Nintendo, here's a few more of the best cosplayers we saw at NYCC 2018, starting with this incredible cabbage merchant from Avatar: The Last Airbender.
Check out this awesome female inspector gadget:
Here's our personal favorite, the cast of Over the Garden Wall. (Side-note: there were actually a surprising number of cosplayers for the 2014 animated mini-series.)
The Karate Kid's Johnny Lawrence AND Doctor Zaius? Now that's a team-up!
We also ran into this Pokémon professor, but he wouldn't let us keep any of his starter Pokémon:
And last (but not least), this Austin Powers cosplay is spot on: