Meet the Electric, Hydrogen, Zero-Emissions Plane Set to Fly by 2025
The future of air travel looks greener.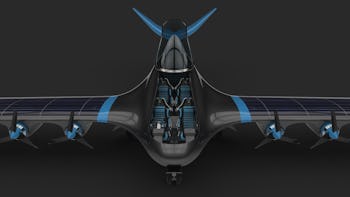 BusinessWire
The aviation industry, only born a little over a century ago, is on the brink of an enormous change. While electric cars and the electric scooters are already dotting city streets, planes are preparing to join the emissions-free club.
On October 1, HES Energy Systems announced plans to craft the first regional hydrogen-electric passenger plane in the world. The company aims for the four-passenger aircraft, named Element One, to take to the skies in 2025.
"We are looking at innovative business models and exploring collaboration with companies such as Wingly," Taras Wankewycz, CEO of of HES Energy Systems told Inverse in an email. Wingly, a flight-sharing startup, sees a perfect pairing between Element One and France's underused airfields.
What Makes Today the Moment to Go Electric?
The title of first electric plane to take flight actually goes to Heino Brditschka, an airplane manufacturer who made it 300 meters in the air for about 10 minutes in 1973. But the electric aircraft industry only took off in earnest over the past 9 years, spurred on mostly by start-ups and new players in the aviation, according to consulting firm Roland Berger in a Financial Times report. That's helped drive more innovation: Companies like Siemens, with its record-breaking 200-plus mile per hour electric 330LE, as well as the new electric face of Boeing 737s are also working on similar initiatives.
Aside from competition, the recent push to electric flight is chiefly motivated by environmental concerns. Aviation makes up 3 percent of global carbon emissions, according to the EU's Clean Sky 2 initiative. And with air travel projected to increase threefold by 2050, the industry is trying to avoid contributing to the problem of climate change any more than it already is.
In the context of rising emissions, this makes a plane like Element One — designed to create zero-emissions — absolutely transformative. The aircraft would use ultra-light hydrogen fuel cells (stored either as a gas or liquid) to tackle the industry-wide challenge of battery density not matching traditional fuel density (in other words the weight of batteries needed to power aircraft could be overwhelming). The Element One will also only takes 10 minutes to refuel, and may eventually use solar or wind energy to recharge mid-flight. Although the prototype fits four passengers, the aircraft could scale up to 10-20 passengers or more, according to Wankewycz. Innovations like these allow Element One to outperform other battery-electric airplanes, reaching a range of 500 km (a little longer than the Grand Canyon) to 5,000 km (a little over the distance from L.A. to New York).
Current challenges include certification and testing that faces every new aircraft, but Wankewycz is confident in preparing the Element One for success.
And with the expanded range of Element One, new promising opportunities for regional travel open. Wingly, a French flight-sharing startup collaborating with HES Energy Systems, found the perfect opportunity in France's unused airfields.
"We analyzed the millions of destination searches made by the community of 200,000 pilots and passengers on our platform and confirm there is a tremendous need for inter-regional transport between secondary cities," says Emeric de Waziers, CEO of Wingly in a press release. "By combining autonomous emission free aircraft such as Element One, digital community-based platforms like Wingly and the existing high density network of airfields, we can change the paradigm. France alone offers a network of more than 450 airfields but only 10% of these are connected by regular airlines. We will simply connect the remaining 90%."
In today's paradigm, small, short-distance flights like the ones de Waziers describes are a luxury of the terrifically rich. But at the intersection of hydrogen-electric technology and forward thinkers of startups like Wingly, passengers from diverse economic backgrounds may soon have a quieter, greener (and sleeker) reason to clap at the end of their flight.