Bird, the Uber for Scooters, Just Raised $100 Million
Bird app lets customers rent electric scooters for that "last-mile" home.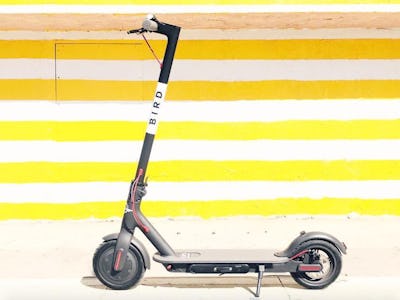 Instagram
Venture capitalists appear to love transportation sharing services whether it be for cars, bikes, or now, scooters.
Bird, a Santa Monica, California-based electric scooter sharing company, announced this week that it raised $100 million on a $300 million valuation from venture capitalists. This is the company's second round of funding and much more than it's first round of funding, which was $15 million back on February 13.
Investors want to get in on the ground floor of what they hope to be another Uber, and like Uber, Bird already has legal issues to deal with.
Bird works by placing 1,000 electric scooters, or "Birds," across the city for people to rent via its app for $1 plus 15 cents a minute. The company looks to provide a low-cost, environmentally-friendly transportation option for the "last-mile" to a commuter's destination after they get off a subway or bus.
"Today, 40 percent of car trips are less than two miles long. Our goal is to replace as many of those trips as possible so we can to get cars off the road and curb traffic and greenhouse gas emissions," said Travis VanderZanden, founder and CEO of Bird, in a press release on the company's website. Prior to founding Bird, VanderZander was also an executive for both Uber and Lyft.
Growing Pains
Techcrunch reported that since its launch last summer, 50,000 people have taken 250,000 scooter rides via Bird. Although customers may be enjoying their quick ride, the city of Santa Monica is not happy with the service.
Anuj Gupta, Santa Monica's deputy city manager and director of policy, told the Washington Post, "the challenge is that they decided to launch first and figure it out later."
Like Uber when it launched, there are certain regulations Bird has to contend with. In California, riders of motorized scooters have to be at least 16 years old, a licensed driver, wear a helmet and not ride on the sidewalk. Since the beginning of the year, the Santa Monica Police Department has made 281 traffic stops and issued 97 citations involving Bird. There have also been eight accidents involving minors and adults.
Bird did try to deal with the issue of helmets in January by giving away 1,800 free helmets. The company also reminds users of using a protective wear and how to ride safely on their app and website.
What's Next for the Bird?
Bird is currently available in Santa Monica, UCLA, Westwood and San Diego with big plans for 2018.
"With this funding, we can move quickly to bring this vision to communities all across the country," VanderZandez said.
The company plans to bring fleets of electric scooters to 50 U.S. markets by the end of the year.