This Company Wants Passenger Planes to Be All-Electric in 10 Years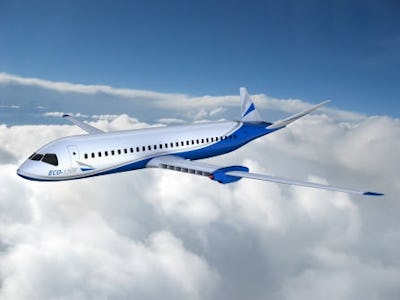 Wright Electric
An ambitious tech startup wants to make every short-haul flight in the world possible on an electric plane in 20 years. At startup accelerator Y Combinator's demo day on Tuesday, Wright Electric co-founder Jeff Engler told the audience that his company is working on a 150-seat commercial passenger airplane that will undertake journeys less than 300 miles. If Wright Electric's ultimate goal is successful, 30 percent of global flights, worth around $26 billion, would be on electric planes.
On stage, Engler unveiled the Wright One concept, which it wants to bring to market in 10 years time. The seat number compares to the narrow body Boeing 737-700, which offers 137 seats in a single class configuration. The Boeing 737 is the best-selling airline series of all time.
The company, founded a year ago, has big names helping to bring its vision to life. It's working with Chip Yates, whose Long-ESA airplane is the fastest ever designed, and with a team that previously received NASA funding to explore electric planes. Alongside expertise, the company also has money, by way of Y Combinator incubator funding.
Electric planes could completely change aviation, reducing emissions and flight prices, even making planes quieter. Battery packs would be charged externally, to save airplanes from standing around waiting to recharge.
"The way we've designed our plane is to have modular battery packs for quick swap using the same cargo container that's in a regular airplane," Engler told BBC News. "We want it to be as fast as possible, so airlines can keep their planes in the air as long as possible and cover their costs."
Low-cost airline EasyJet has had discussions with the company, and Wright Electric claims that an individual has expressed interest in making the plane their fifth private jet.
However, the plane's all-electric design is dependent on whether batteries improve over the coming years. New progress into solid state glass electrolyte batteries is promising, but the company needs a sure-fire way to power its planes. If an all-electric system isn't feasible, the company says it will consider switching to a hybrid design, which would still offer cost savings but would also work with existing technology.
Wright Electric isn't the only company working toward electric planes, though. Airbus has produced concepts for a variety of flying machines, including the Vahana, which envisions making flying taxis a reality by 2020. Earlier this month, the company teamed up with Italdesign to unveil the Pop.up, a modular flying machine compatible with ground transport and hyperloop.
Wright Electric's goals are still ambitions, but perhaps less far-fetched, seeking to replace existing flights in a less disruptive way. We'll see if they manage to take off.