President Trump Will Send His First Alert to Almost Every Phone Today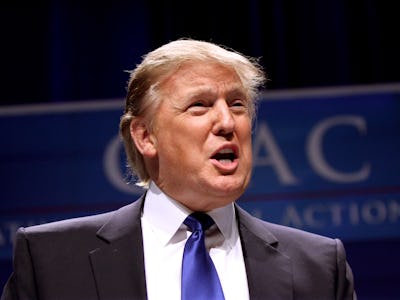 Flickr / Gage Skidmore
Get ready to receive a text from the president. The United States' Federal Emergency Management Agency, also known as FEMA, has issued a reminder that the "Presidential Alert" system will make its first test message on Wednesday. The service allows Donald Trump and future presidents to issue messages to phones across the country — and there's no way to opt out.
At 2:18 p.m. Eastern time, the Wireless Emergency Alert system will send out a message via cell towers participating in the system. Compatible phones within range and connected via a participating carrier will receive a message titled "Presidential Alert" that reads "THIS IS A TEST of the National Wireless Emergency Alert System. No action is needed." The test was originally scheduled for September 20, but officials moved the date back due to Hurricane Florence. The test will run concurrently with an Emergency Alert System test that covers television broadcasters and similar media. While this is the fourth test of the EAS, this will be the first time the WEA has been used since it became operational in 2012.
See more: Your Phone's Emergency Alerts Could Soon Actually Be Useful
The alerts differ from most others mandated by the Federal Communications Commission. While users can switch off AMBER alerts and emergency alerts for floods and the like, your phone will have no such switch for these presidential alerts. Of course, users are free to switch off their phones to avoid hearing the alert. A movement on Twitter is encouraging users to switch their phones off for the test.
Don't expect to suddenly receive Trump tweets at all hours of the day, though. The law states that the system "shall not be used to transmit a message that does not relate to a natural disaster, act of terrorism, or other man-made disaster or threat to public safety," with an exception made for "the extent necessary for testing the public alert and warning system."
Expect the alert to reach phones at 2:18 p.m. Eastern time. That is, unless the system experiences a fault akin to the Hawaii missile launch false alarm, where improper use of the system sent out a message warning people to seek immediate shelter.