How Did Hawaii Ballistic Missile False Alarm Happen? "Someone Pressed the Wrong Button"
"It was a message sent in error."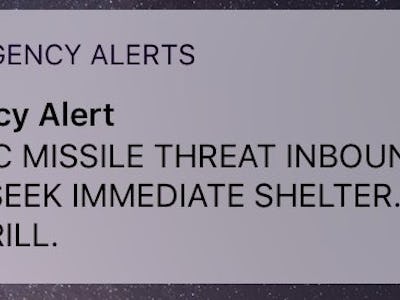 The threat of a North Korean missile hitting hitting Hawaii is dangerously real, as President Donald Trump's "button" tweets stoke dangerous tensions between the United States and the North Korean dictatorship. The threat felt very real on Saturday morning in Hawaii after an emergency alert was sent out to TV, radio, and cell phones about an inbound ballistic missile.
The emergency alert was sent to an unknown number of people in the state, some of whom shared photos of themselves sheltering in place a little after 8 a.m. local time on Saturday. By many accounts posted on social media, the gravity of the scenario was terrifying for about a half-hour before the alarm was called a mistake by officials.
Hawaii Governor David Ige told CNN that someone pressed the wrong button, which sent out the alert to telephones, radio stations and TV stations. It happened during a testing during a routine shift change at the Hawaii Emergency Management Agency, according to a statement.
"I know first-hand how today's false alarm affected all of us here in Hawaii, and I am sorry for the pain and confusion it caused. I, too, am extremely upset about this and am doing everything I can do to immediately improve our emergency management systems, procedures and staffing," Ige said in a statement.
The Hawaii EMA confirmed "there was no ballistic missile and that there were no computer hacks to the HI-EMA system. The cause of the false alarm was human error." What was supposed to be an internal drill — officials don't seem to know why external alerts went out — will be put on hold.
"There is no credible threat and we're referring everyone to the state Hawaii," a NORAD official told Inverse on Saturday shortly after the alert went out. "It was a message sent in error."
The alert read:
Emergency Alert
BALLISTIC MISSILE THREAD INBOUND TO HAWAII. SEEK IMMEDIATE SHELTER. THIS IS NOT A DRILL.
About 38 minutes later, this message went out:
Emergency Alert
There is no missile threat or danger to the state of Hawaii. Repeat. False Alarm.
The Hawaii EMA also issued a brief statement on Twitter as well, which for a time was the only information available: "NO missile threat to Hawaii."
The Federal Communications Commission oversees the Wireless Emergency Alert system, and Inverse has reached to the agency for comment on the matter. FCC chairman Ajit Pai said on Saturday that "The FCC is launching a full investigation into the false emergency alert that was sent to residents of Hawaii."
Around the state, people shared their terror, and then outrage, on social media:
Memphis-based meteorologist Jim Jaggers was in Hawaii shared this image and caption: "Ballistic Missile Warning in Hawaii. People are sheltering in place. I'm in Kauai now. Will try to report as best I can."
"Today's alert was a false alarm," said Hawaii Senator Mazie Hirono. "At a time of heightened tensions, we need to make sure all information released to the community is accurate. We need to get to the bottom of what happened and make sure it never happens again."
Hawaii's other senator, Brian Schatz, said Saturday he spoke with U.S. Pacific Command, the unified military combatant overseeing the Pacific ocean, and "we agreed to collaborate on an after-action process to make sure that this process gets fixed. This is a state responsibility but we will take collective action."
Jon Wolfsthal, director of the Nuclear Crisis Group and based in Virginia, brought the false alarm into perspective this way: "This is a false alarm but this is also how accidental wars start. Need mil to mil talks with DPRK as soon as possible."
Story has been updated to reflect the latest information.