This Apple Watch Lookalike Has a Bunch of the Same Features at a Fraction of the Price
This budget smartwatch can take calls, send texts, and then some.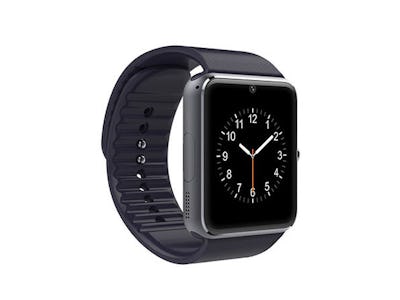 We're big fans of the Apple Watch, and even some of its closer competitors, and while there's definitely a place in my heart for a premium feature-rich smartphone, the stuff I really want one for — reading texts, firing off quick replies, and basic health app functionality — have been with the gadget since its release in 2014. That's not a bad thing, since there are all kinds of budget options out there for the crafty consumer now, and this Apple Watch lookalike is as good, and as cheap, as they come.
https://stacksocial.com/sales/bluetooth-smart-watch-black?aid=a-fnhhk526&utm_source=inverse.com&utm_medium=referral&utm_campaign=bluetooth-smart-watch-black_100118&utm_term=scsf-299881
This Bluetooth Smart Watch from our friends over at Stack Commerce is discounted an absolutely insane 82 percent right now. It boasts Bluetooth connectivity and functionality with any phone or tablet with Bluetooth 3.0 and above, it can send texts, supports hands-free calls, and even lets you take pictures remotely with the touch of a button.
Normally $199.99 (not bad!) This Smart Watch is on sale right now for a whopping $34. Safe to say, this deal will not last long.