Forget the Apple Watch, Here Are the Best Alternative Smartwatches
I bet you didn't realize just how cheap you can get a great smartwatch.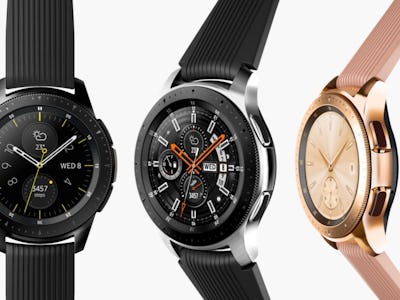 Look, I love the Apple Watch. It's big, beautiful, and it just keeps getting better, but with computers speeding up every year and Apple's competitors getting savvier, there are fewer reasons to stick so tightly to Tim Cook's lineup of gadgets. Android phones are great, Microsoft's Surface continues to improve drastically, and, yes, smartwatches are getting better and better, too.
Not to mention cheaper. I did a quick scan of Apple's website, and while the Apple Watch 4's base price of $349 is… fine, I selected a few upgrades and found that with three clicks, you can upgrade to an $850 one. Call me crazy, but that is too much money to spend on something at, at best, complements your smartphone and fitness tracking experience and, more realistically, is simply a new extra-bright annoyance for people in movie theaters to deal with.
So, where do we go from here? We looked around for the best Apple Watch alternatives that not only give it a run for its money literally speaking, but still come with the features you expect from the smartwatch experience. Here's what we found.
$174.99
Android users in particular love the Explorist from long-time watchmaker behemoth Fossil. It's half the price of an Apple Watch, but still packs a punch with a big customizable touchscreen interface, mobile notifications, and a 24-hour battery life, all housed in a water and dust resistant casing. If the Apple Watch is a little too space-age and modern for you, the Fossill Explorist sure still feels like wearing a watch. You know?
$199.95
Fitbit getting into the premium smartwatch game was one of the better decisions the company's made. It offers everything from cheap-as-hell step trackers to premium gizmos, and the Versa is out favorite of the latter. The battery lasts around four days and it does much more than just fitness stuff (it does do that particularly well, though). Enjoy sports, weather, email, and text alerts among so many other features, and Android users can even fire messages back on the watch itself.
$349.99
Take a look at that picture again and seriously tell me you didn't think that was an analog clock face at first. This thing is worth every penny. And just because this is a Samsung watch, doesn't mean it's just for the Galaxy users. You can pair this with iPhones for all your messaging, calling, streaming, and to-do-list needs. This does everything you want from an Apple Watch and, dare I say it, does some things better.
$79.99
Did you even know a good, useful smartwatch can even come this cheap? The Bip isn't feature-heavy (you can't send emails or texts on it, for example) but you still get a rich experience with notifications, weather, fitness tracking, and more from something you could buy several times over and still not come close to matching the price of a very similar device.