New Leaked 'Joker' Footage Confirms Thomas Wayne Rumors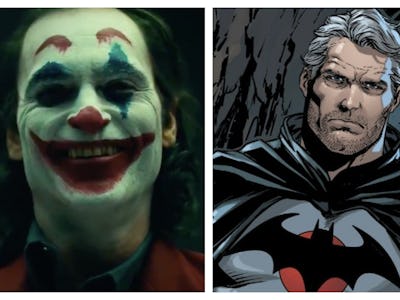 DC Comics, Warner Bros. Pictures
It's a totally different DC Universe in Todd Phillips' Joker starring Joaquin Phoenix. In new paparazzi footage taken from the film's set in New York City, a subway riot where Phoenix appears in full Joker costume, also reveals protestors against Thomas Wayne's bid for Gotham City's mayoral office.
On Saturday, paparazzi footage (acquired by TMZ) revealed Joaquin Phoenix in full Joker costume and make-up, wearing a bright red suit and orange vest. (Despite the colors, the costume bears a strong resemblance to Heath Ledger's Joker's wardrobe from 2008's The Dark Knight.) The footage shows Phoenix strutting out of a packed subway with a violent riot occurring behind him.
Look closely at the protestors' signs, and you'll see there's an anti-Wayne sentiment among them. Some of the most visible signs read "FASCIST WAYNE" and "CLOWN MAYOR." One even reads, "If you think GREED is bad, wait until you hear about CAPITALISM."
People protesting against the Waynes? Now that's a radically different take on the Wayne Family from other Batman media, who are so often presented as benevolent benefactors who use their wealth to assist Gotham City's overwhelming underprivileged population.
These protestor signs confirm a popular rumor about Joker, which involved Thomas Wayne acting as a 1980s-era Donald Trump figure. Back when Alec Baldwin was rumored to appear in the film (which he later confirmed he will not), the descriptor shared by The Hollywood Reporter was that Thomas Wayne would be a "cheesy and tanned" businessman in the "mold" of Donald Trump.
On Twitter, Baldwin later confirmed he would not be in the film as Thomas Wayne. A few weeks later, the film cast Brett Cullen, who actually played a Congressman in 2012's The Dark Knight Rises.
Joker will be released on October 4, 2019.