Joaquin Phoenix's 'Joker' Set Photos Confirm This Movie Is Actually Real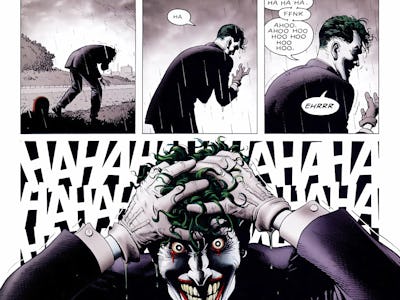 DC Comics
Seeing is believing, so seeing new set photos of Joaquin Phoenix on the set of the stand-alone Joker must mean it's real. Right?
On Sunday, paparazzi photographs of Joaquin Phoenix filming Joker in New York City's Harlem neighborhood surfaced online. In the pictures, Phoenix wears a brown cardigan underneath a beige jacket. His face is gaunt. He seems to be taunting a street clown and smoking cigarettes. His haircut is also reminiscent of Heath Ledger's Joker from Christopher Nolan's The Dark Knight.
You May Also Like:
It's not exactly the look of a future crime boss and super-villain mastermind, but Phoenix's eerie expressions do communicate a kind of "unhinged" personality on the fringes of insanity. The film, directed by Todd Philips (of The Hangover trilogy), will tell the origins of Batman's famed arch-nemesis.
The continuity of the film will be separate from the "DCEU" franchise where Jared Leto stars as the Joker. Given the murky, often uncertain status of the DC franchise, you'd be forgiven for thinking a stand-alone film about the Joker can't be real. But these photos prove the movie is very, very real.
While the Joker's origins have never been definitive in mainstream comic book canon, a popular version was explored in Alan Moore and Brian Bolland's seminal 1988 one-shot Batman: The Killing Joke. In the comic, the Joker tries to prove that the good guys — Batman and Commissioner Gordon — are just one bad day away from turning evil.
The comic's artistry and its ambiguous ending have earned the story immortal status among fans, but Alan Moore himself has since renounced the comic.
"Actually, with The Killing Joke, I have never really liked it much as a work simply because I thought it was far too violent and sexualized a treatment for a simplistic comic book character like Batman and a regrettable misstep on my part," he said in a 2016 Goodreads Q&A
He added: "I have no interest in Batman, and thus any influence I may have had upon current portrayals of the character is pretty much lost on me."
An animated film version of The Killing Joke, produced by DC and Warner Bros., was released in 2016 and received negative reviews.
Joker is scheduled to be released on October 4, 2019.