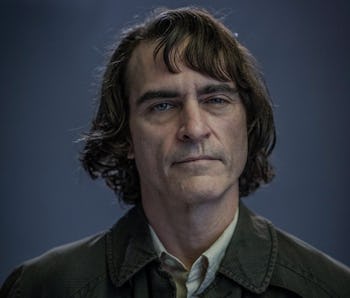 Entertainment
Joaquin Phoenix's 'Joker' Movie Set Photos Show an Aging Stripper Character
Warner Bros. Pictures
In what sounds exactly like the thing you'd expect in a movie about the Joker, the Joaquin Phoenix DC super-villain picture has comedian Bryan Callen playing an "aging male stripper." New paparazzi photos of the film's production in New York City further reveal Callen as a Chippendales-style performer.
On Wednesday, new photos surfaced from the set of Joker, the Todd Phillips-directed movie detailing the origins of Batman's greatest nemesis, the Joker. Production has commenced in New York City, and previous photos of the film revealed Phoenix as "Arthur Fleck," a seemingly troubled but ordinary man who is just one slip away from a very bad day.
These new photos now include Phoenix's Arthur Fleck, again, now crossing paths with Callen, dressed in a white tank top and wearing Chippendales tuxedo cuffs and bowtie.
In a July episode of his podcast The Fighter & The Kid, Callen revealed his character would be an "aging" stripper.
"I was offered a part," he said. "I think it's only a couple days. Play an aging dancer, stripper. I don't want to go into the details. I can't go into the details, but just know it's gonna be good. And I hope my psoriasis is flaring cause that'll be very funny. I'll be in a Speedo, I can't wait. I have some ideas for it."
Though not directly based off any specific comic books, Joker is set to tell the origins of Batman's archenemy. Comparisons to Alan Moore's 1988 seminal one-shot Batman: The Killing Joke are unavoidable, though the Joker wasn't "Arthur Fleck" in that tale.
Joker will be released October 4, 2019.