Rosario Dawson Wants to Play a Klingon in New 'Star Trek: Next Generation'
Listen up, Captain Picard.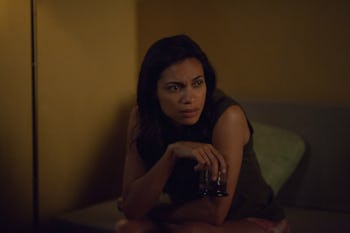 Netflix
Rosario Dawson has never been shy about her love of all things Star Trek — she even speaks a little Klingon — but at a recent event she took it a step further, angling for a role in the upcoming Next Generation series set to feature Patrick Stewart reprising his iconic roll as Captain Jean-Luc Picard.
"I grew up loving Star Trek and I'm still waiting for my holodeck," Dawson said at a Tribeca TV Festival event attended by Inverse. "My favorite is Next Generation because of Jean Luc Picard. If they need a Klingon for the new series, well, have you seen my fivehead?"
Dawson went on to explain that what really draws her to the Star Trek universe is the utopian civilization it portrays. For the actor-activist who campaigned with Bernie Sanders in 2016, it's no surprise that the idea of a post-scarcity world has obvious appeal.
"I love Star Trek because I always marveled at the idea of a world without capitalism," she said.
Dawson may be best known for her role as Claire Temple in the Netflix/Marvel TV universe, but earlier this year she revealed that after Luke Cage Season 2 she may be finished with the character entirely. At the Tribeca TV Festival, she opened up about one of her intense, final scenes as Claire, in which an angry Luke Cage begins punching holes in the wall during an argument between them.
Speaking to the crowd, Dawson revealed that the original script didn't necessarily give Claire Temple the send-off she deserved.
"It was looking like a big final scene for Claire, the culmination of five years," she said, "but originally it was much more focused on Luke Cage."
Dawson took her concerns straight to series creator Cheo Hodari Coker, who integrated her notes and even offered her a spot in the writer's room. She declined, noting that she simply wanted Claire's final moments in the Netflix/Marvel universe to live up to her character's arc.
"This was going to be, for now, a kind of goodbye for Claire," she said. "So I couldn't have this man get in my face like that without talking back. I wanted to make it clear that you don't have to be a superhero to have an impact on your community."
Dawson's future in the Marvel universe may be unclear, but if the actress gets her way we could see her in another huge nerdy series very soon. And even if she doesn't make it into the new Star Trek: The Next Generation, at least she got a chance to play a superhero in her own unique way.
"Claire has MacGyver powers," she said, quickly stepping back into the role: "Oh, your arms bleeding out? Here's some alcohol and floss."
Luke Cage Season 2 is streaming on Netflix now. The new Star Trek: The Next Generation series is set to debut on CBS All Access… eventually.