Steve Urkel Finally Got His Emmy at the 2018 Awards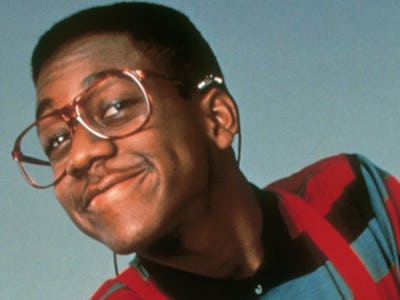 Steve Urkel Facebook
It might not have really counted, but Steve Urkel (AKA actor Jaleel White) finally won an Emmy for his portrayal of the iconic nerd in Family Matters. The award was presented to White by 2018 Emmys co-host Michael Che during a pre-recorded "Reparation Emmys" comedy sketch.
Che handed the award to White in a bar, thanking him for paving the way for black nerds everywhere and adding that without Urkel, "There'd be no Donald Glover. There'd be no Kanye West. There'd be no Obama."
Right on cue, White responded: "Did I do that?"
The short video also paid tribute to stars from classic TV shows like The Jeffersons, Good Times, and A Different World, but there's something about White's Urkel that really has stood the test of time. There's a reason the character is constantly referenced in popular culture, and it's not just that ridiculous catchphrase.
Steve Urkel isn't just a black nerd, here's a superhero. Who else could create a cool version of himself, clone himself, build a robot Urkel, and even build an atom bomb? Ok, maybe that last one is more like supervillain behavior, but we'll take that too.
The point is that Urkel is an icon, an enduring symbol of the power and purity of nerdiness at a time when it's more prevalent than ever and maybe a little less pure. Today we have more superheroes than we can handle, but there's still room in our hearts for that adorable, cheese-loving nerd.