How to Download iOS 12 If Your Storage Space is Super Low
When there's a will, there's a way.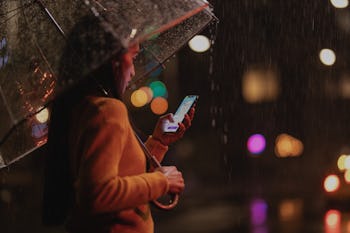 Apple
iOS 12 is here. Apple's major software updates for iPhone, iPod Touch and iPad launched on Monday offering improved performance, smarter Siri, and new Animoji. The prospect of a multi-gigabyte download may seem like a bridge too far for users with low storage space, but rest assured there's a number of ways to move around the issue without causing too many headaches.
The new update provides big boosts for old devices. iOS 12 runs on every device that runs iOS 11, dating back to the iPhone 5S, the sixth-generation iPod touch, and the first iPad Air. Apple promises up to 70 percent faster access to the camera from the home screen, 50 percent faster keyboard display, and double the app launch speed under heavy workload. This is on top of the new "Siri Shortcuts," improvements to Bedtime mode, and new augmented reality features.
Unfortunately, space could prove an issue, especially with some devices offering just 16GB of storage total.
iOS 12 How to Download: Let Apple Handle It
Apple has become rather adept at managing on-device storage in recent years. Its iCloud Photo Library can move media into the cloud, "app thinning" cuts out the unnecessary data from app downloads, and iOS can automatically remove apps from the phone that haven't been used for a while, re-downloading when the user presses on the icon.
For some people, this isn't quite enough. Apple continued to sell 16GB iPhones for a ridiculous amount of time, drawing ire when the iPhone 6S launched just two years ago with a pitifully small amount of space. The company seems to have reversed course by offering the XR, XS and XS Max with 64GB minimum across the board, but this update is for phones as old as the 5S, so plenty of people are going to struggle with a tiny slither of space.
Fortunately, Apple can help in many cases:
Visit the "Settings" app, then "General," then "Software Update."
Confirm the iOS 12 update.
iOS will try and remove apps and content to make space. It will automatically re-download content after the update.
If this doesn't work, read on.
iOS 12 How to Download: Use iTunes
It's a little-known trick, but updating the device via iTunes works even when the device is low on storage. iTunes downloads the update to the computer and updates via USB, rather than downloading the whole update on top of the existing operating system.
Use a USB cable to plug your device into a computer running the latest version of iTunes.
Click on your device, then click "Check for Updates."
Follow the on-screen instructions. to download and install.
iOS 12 How to Download: Delete Some Stuff
If Apple can't help you and you don't have a computer to hand, maybe it's time to say goodbye to some treasured content. While it may seem hard at first, some content is more valuable than others. Under "Settings," "General" then "Storage," Apple provides a detailed breakdown of ways to save space and options for improving use of storage. It could be a good opportunity to do some much-needed tidying up, saving you from doing so again further down the line.