'Elder Scrolls' Dragonborn Is a Perfect Fit for 'Super Smash Bros. Ultimate'
Bethesda confirms it talked to Nintendo about 'Smash.'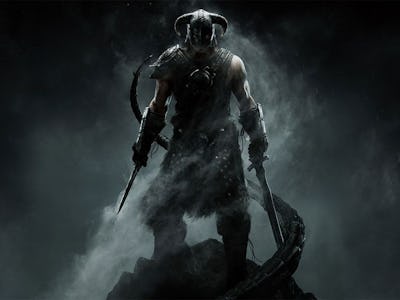 Bethesda Softworks
Nintendo just announced another addition to the Super Smash Bros. Ultimate roster, but with four months left until launch, there's still plenty of time for even more characters to join the fight. On that note, it looks like we have official confirmation that the Japanese gaming company talked to Elder Scrolls developer Bethesda about a possible Smash tie-in.
The news comes Metro UK, which recently published an interview with Bethesda's PR and Marketing chief Pete Hines where he spoke candidly on a wide range of topics from Wolfenstein III (it's happening!) to why the company hates Loot Boxes. But for Nintendo fans, the biggest news comes down to just two words uttered by Hines in response to the question: "Have you spoken to them [Nintendo] about Smash Bros.?"
"Oh yeah," he said, before the interview abruptly came to an end.
This isn't the first we've heard of a possible Bethesda-Smash Bros mashup. In a previous interview, Blizzard senior producer Pete Stilwell said he'd love to see a Diablo character show up in Nintendo's fighting game franchise, suggest either Diablo himself or Deckard Cain. But this is the first time we've gotten any sort of indication that the two video game publishers actually talked about what a potential partnership might look like when it comes to Smash.
That's all we know for now, but if there's a clear choice for which Bethesda character belongs in Super Smash Bros. Ultimate it's got to be the Dragonborn from The Elder Scrolls V: Skyrim. For one thing, this magic and sword-wielding hero fits into Nintendo's current roster way better than, say, the Doomslayer. On top of that, Bethesda is pretty much always selling some new version of Skyrim, making the Dragonborn pretty much the company's official mascot at this point.
One fan even created an extremely detailed character guide for a Smash Bros. Ultimate Dragonborn player. So just in case Nintendo needs a little help bringing the Elder Scrolls hero to life, the company's game designers can start here.
Of course, if the character isn't already finished at this point it probably won't make it into the Ultimate roster at launch. Good thing there's always DLC, right?
Super Smash Bros. Ultimate launches December 7 for Nintendo Switch.