Isabelle Joins the Fight in 'Smash Bros. Ultimate' Roster Reveal
Nintendo also confirmed a new Switch bundle in its latest direct.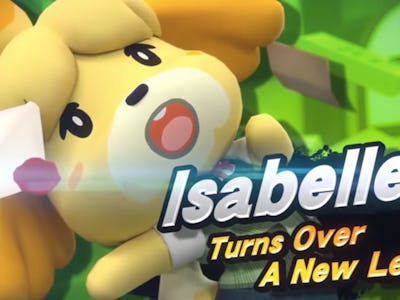 Nintendo
Nintendo just announced a slew of new additions to the Super Smash Bros. Ultimate roster last month, but on Thursday night the company revealed one more character. During a Direct presentation, we learned that Isabelle from the Animal Crossing series will join Smash as a playable fighter.
This isn't exactly surprising news. There's been plenty of leaks and speculation suggesting Isabelle would join the fight. However, we were pretty much expecting her to be an Echo fighter, meaning a close copy of another character (likely Villager) with a few minor changes. Instead, we got a distinct addition to the roster with some interesting new attacks.
Isabelle can use a fishing rod to grab enemies from a distance before giving them a toss. She can also trap fighters with a net. Similar to Villager, she can also absorb projectiles sent in her direction and toss them back at her opponents. Her Final Smash is also similar to Villager's and summons a team of animals to build a structure around the enemy and then blow it up with them still inside.
During the same Direct presentation, Nintendo also announced a brand new Animal Crossing game coming to Nintendo Switch, which will launch sometime in 2019. Additionally, the company will offer a Smash Bros. Ultimate bundle for the Nintendo Switch, which launches ahead of the game on November 2 and includes a digital copy of Ultimate, and Smash themed decorations for the Joy-Con controllers and the Switch itself.
The bundle costs $360. So you're not exactly saving money. Still, if you're picking up a Switch to play Smash Bros. Ultimate this is a pretty decent option.
Super Smash Bros. Ultimate launches December 7 for Nintendo Switch.