Apple Unveils Shipping Estimates for the iPhone XS Max
You might have to wait a while.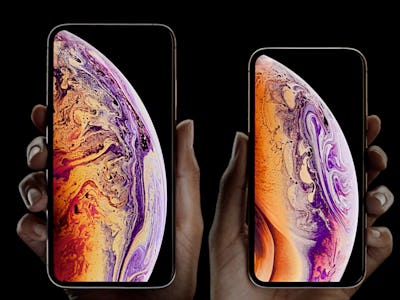 Apple's biggest-ever smartphone hit the web on Friday, with pre-orders handed out to the early consumers. The company has updated its website to reflect delivery and pickup estimates, with some models registering a much longer wait than others. Those looking for a SIM-free iPhone XS Max may find better luck than those opting for a carrier model.
The company's website produces estimates based on supplied ZIP code and nearest Apple Store supplies, with some offering pickup availability from a local store at varying dates. The Grand Central Apple Store in New York offers pickup on most iPhone XS models on September 21, but the $1,149 256GB model and gold finish appear in shorter supply than others. SIM-free models also appear to offer better availability, but buyers have to pay for these upfront whereas buyers can choose to pay for other models with the iPhone Upgrade Program. While some models are still available for a shipping window within this month, a number of models have shifted to the start of October.
See more: How to Pre-Order the iPhone XS and iPhone Xr (AKA the iPhone 9)
The new devices set higher base prices than ever before, with the 5.8-inch iPhone XS starting at $999 for the 64GB model and the XS Max starting at $1,099 for the same capacity. Analysts prior to Wednesday's unveiling expected Apple to announce both price points at $100 less, bringing the price of a 5.8-inch OLED iPhone down by $100 compared to last year's releases.
Apple unveiled the iPhone XR at the same event for buyers looking for something cheaper. The device comes with a 6.1-inch LCD screen, no 3D Touch, only one rear camera, and a lower pixel density. At $749 for a 64GB model, though, it represents a $250 saving over the XS. Both phones come with the A12 Bionic processor, capable of performing up to five trillion operations in a second for advanced artificial intelligence calculations like face recognition.
The XR could prove the star of this year's lineup when pre-orders go live on October 17. DigiTimes analysis claims the device will account for more than half of the three iPhones' sales in the second half of this year.
With XR shipments not expected to start until October 26, buyers will have a much longer wait compared to those ordering the XS or XS Max for delivery right now.