Who Is Michael Langdon? He Could Be Very Important on This Season of 'AHS'
He's actually an old character, back at the end of the world.
by Josie Rhodes Cook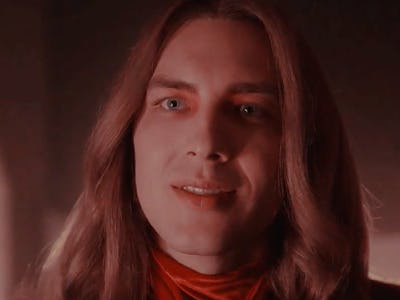 YouTube
The latest season of American Horror Story premiered on Wednesday night on FX, and Ryan Murphy and the gang are going all out this time around with a storyline centered around the literal end of the world. And while one character who showed up at the end of the episode may seem like a mysterious new figure who wants to cause trouble for those who survive the world's end, he's actually an old character who's just … grown up a little bit.
American Horror Story: Apocalypse, Episode 1, a man shows up at the containment facility where survivors of the apocalypse are hiding out, trying to survive in a strange new "society" of sorts. While he may not look familiar to viewers, he's actually a character from the very first season, American Horror Story: Murder House.
Remember Michael Langdon?
Langdon is AHS: Apocalypse's prophesied Antichrist, and as such, he's probably not the savior those left behind after a nuclear war engulfed the planet may be looking for.
Langdon tells Kathy Bates' character that there's another outpost like the one she's taking shelter in, and he offers to guide everyone to it. But it's probably a safe bet that he's not some benevolent rescuer.
That's because in Season 1 of AHS, Langdon is predicted to be the Antichrist himself. He was the child of Vivien (Connie Britton) and Tate — played by Evan Peters — and Tate is the dead teenage son of Constance, played by Jessica Lange. Vivien was impregnated via rape by Tate, who was trapped inside the Murder House with other ghosts. And a medium (Sarah Paulson's character) revealed that a child born of ghost and human, as Michael was, would be the Antichrist.
It was previously announced that this season of American Horror Story would connect with both Murder House and Season 3, Coven. But it was unclear just how that would work. After the Season 8 premiere of AHS, we now know that at least one huge, possibly world-altering character from so many seasons ago is back to wreak havoc.
It's shocking that is the little boy who murdered his nanny in the first season of American Horror Story grew up. Now that the Antichrist has arrived, things are likely to get a lot more interesting in the apocalypse.
Just one question, though: If the show is, in fact, bringing back old characters for this installment of AHS, where the heck are the coven witches and Jessica Lange in Apocalypse? Viewers will just have to catch the rest of the season to find out.