DC's 'Titans' Will Bring "Tension" Between Jason Todd and Dick Grayson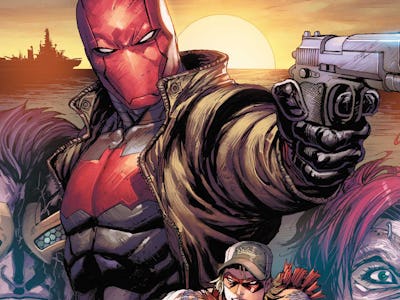 DC Comics
Dick Grayson isn't the only Robin in Titans. Jason Todd, the second sidekick of Batman who grows up to become the anti-hero Red Hood, will appear in Titans played by Curran Walters on DC Universe. And in a new interview, the showrunners of Titans tease "tension" between the Boy Wonders.
On Thursday, IGN revealed a first-look photo of Jason Todd (Walters) and Dick Grayson (Brenton Thwaites), who is aging out of his role as Robin and fed up with Batman. In an interview, executive producer Greg Walker says Jason is a "punk rock" Robin and his presence alone generates tension from Dick.
"It's kind of like one of those classic covers of the books, original versus number 2, and in many ways, you really see that," Walker said. "This encapsulates the tension, the energy between these two guys. It's like running into your ex-girlfriend's new boyfriend, minus the sexual tension … You get to watch Dick Grayson struggle when he sees another Robin and how that Robin is different and has a different relationship with 'dad.'"
He added: "And the second child gets away with stuff the first child would never get away with in a family, and ours is really a family show."
In unpacking Jason Todd in Titans, Walker described him as having "a lack of" self-awareness, and that he's more punk rock than Dick.
"He's completely seemingly unaffected by darkness - he kind of embraces it or walks right through it," he said. "He's a breath of fresh air and that's what I love about him, he's got a punk rock, no-holds-barred attitude that's massively unburdened. There's a lot of energy that comes with that."
Flirting with darkness is a dangerous game for Jason Todd. In the comics (Batman: A Death in the Family), Jason Todd is brutally beaten with a crowbar by the Joker and killed in an explosion. Presumed dead, Jason resurfaces years later (Batman: Under the Red Hood) as a gun-toting vigilante willing to cross a line that his old mentor never could.
DC's Titans premieres October 12 on DC Universe.