DC's 'Titans' TV Series Is Making a Dark Knight Out of Robin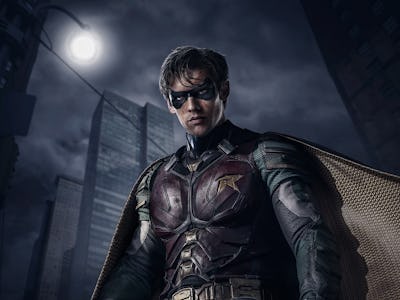 DC Entertainment
Boy wonder no more, Robin is becoming a hero on his own. Along with the epic reveal of the DC-centric streaming service, DC Universe in fall 2018, two new images of Robin from Titans show a grittier, somewhat older Dick Grayson who looks a year or two away from graduating into Nightwing.
On Thursday, DC released two new images of actor Brenton Thwaites (Pirates of the Caribbean: Dead Men Tell No Tales) in full costume as Robin, Batman's sidekick and the leader of the Teen Titans.
One image is a chest-up portrait of Dick, who looks like he just finished a fight in Blüdhaven (Gotham's sister city), while the second photo is a classic "hero shot" of Robin patrolling the rooftops of Gotham City. This isn't the first time fans have seen Thwaites' Robin, but it is a mighty generous look at his full costume, which strongly evokes the Christopher Nolan era of Batman.
The costume, designed by Laura Jean Shannon whose credits include Iron Man 2, Scott Pilgrim vs. The World, and Jumanji: Welcome to the Jungle, is the perfect marriage of "comic book" style and realism, with Robin trading elf shoes and green tights for kevlar and armor (and not in an over-the-top way like Chris O'Donnell's costumes from the '90s). Cosplayers, have at it.
Check out the images below.
How's that for "Big Dick Energy," eh? No? Okay.
Titans will premiere on DC Universe in 2018.