States with High Obesity Rates Have a Few Troubling Factors in Common
CDC data show racial and educational disparities.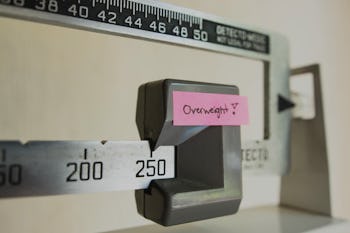 Flickr / marcoverch
The US Centers for Disease Control and Prevention released a report on Wednesday showing that in seven states, 35 percent of residents or more were obese in 2017. This is up from five states in 2016 and zero states in 2012. CDC researchers observed a considerable range of obesity prevalence — from 22.6 percent in Colorado to 38.1 percent in West Virginia — but their data showed clear associations with ethnic group and education levels, regardless of the state.
To identify the trends in the 2017 Obesity Prevalence Maps, CDC researchers used data from the Behavioral Risk Factor Surveillance System, a national telephone survey that tracks the habits, lifestyles, and health status of people across the United States. The data showed that states whose residents reported the highest prevalence of obesity include Arkansas (35 percent), Louisiana (36.2 percent), Alabama (36.3 percent), Iowa (36.4 percent), Oklahoma (36.5 percent), Mississippi (37.3 percent), and West Virginia (38.1 percent).
The researchers broke down these numbers along the lines of ethnic groups, finding that on average, non-Hispanic white Americans reported the lowest prevalence of obesity (29.3 percent), followed by Hispanic Americans (32.4 percent), and non-Hispanic black Americans (39 percent). The maps below show just how glaring this racial disparity is:
The researchers also parsed the survey data along educational lines, where another dimension of health disparity emerged. College graduates reported the lowest incidence of obesity at 22.7 percent, while 31.9 percent of adults with some college reported being obese, 32.9 percent of high school graduates reported being obese, and 35.6 percent of adults without high school diplomas told the BRFSS that they were obese in 2017.
In the past, scientists have observed that individuals with more body fat have trouble losing weight and that people who are obese actually react differently to tasty food than others, so it's clear that even if public health efforts reach obese Americans who want to lose weight, these numbers will be slow to change. Other people may be comfortable with their obesity, even though research has shown that obese individuals are at higher risk for a range of health conditions, including heart disease, stroke, and diabetes.
The study's authors note that children and young adults who are obese are much more likely to be obese adults. And overall, obesity costs the US healthcare system over $147 billion a year. That's why it's important to cultivate healthy habits early on in life.
"To protect the health of the next generation, support for healthy behaviors such as healthy eating, better sleep, stress management, and physical activity should start early and expand to reach Americans across the lifespan in the communities where they live, learn, work, and play," the researchers wrote.