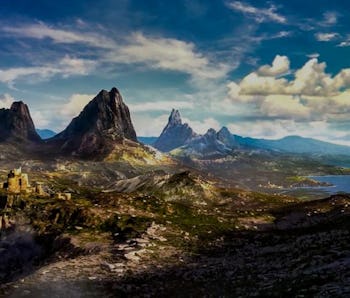 Gaming
Bethesda Hints Again That 'Elder Scrolls 6' May Launch on Next-Gen Consoles
What does Bethesda already know about the PS5?
Bethesda Softworks
When Bethesda first officially confirmed The Elder Scrolls VI and Starfield back at E3 2018, executive producer Todd Howard called them "next-gen" games. This quickly sparked speculation that the titles would launch on new hardware, specifically the PS5 and whatever Microsoft calls the next Xbox. Bethesda later walked back that statement a bit, but a new interview with Pete Hines, the company's Vice President of PR and Marketing, is sure to ignite those rumors all over again.
Speaking to The Telegraph, Hines offered some insight into how the company is preparing for the next generation of consoles while being careful not to give anything away.
"I am curious to see what it looks like and how it's different," he said while discussing the next generation of gaming consoles." I'm privy to some stuff which obviously I can't really talk about, but there is also a lot that I'm not sure on what it's going to look like. And more importantly how big a shift we can expect."
There's a lot to unpack here, even if Hines doesn't offer up any specific details. For one, Bethesda clearly has some inside information on Sony and Microsoft's next-gen consoles, even if it's very preliminary. However, he also notes that exactly how big of an upgrade that generation will be is still a mystery — at least for Bethesda.
In the same interview, Hines compares previous console upgrades, noting that the leap from PS2 and Xbox to PS3 and Xbox 360 felt a lot more significant than the jump up to PS4 and Xbox One. It's unclear exactly where the next generation will fall on that spectrum, but Bethesda is clearly ready for whatever the future may bring.
In the same interview, Hines also explains why Bethesda announced Elder Scrolls VI and Starfield so far ahead of its eventual release, stating that the company was sick and tired of fielding questions about the long-rumored games.
"Number one we were honestly a little tired of being asked about Elder Scrolls VI," he said. "And the Starfield trademark filing and dancing around those things."
Hines adds that the strategy worked, noting that previously, every new game announcement was peppered with questions about Elder Scrolls VI and Starfield.
The knowledge that two big single-player games are coming should also keep Bethesda fans from worrying too much about the company's new multiplayer focus with Fallout 76, which might just be the last game from Bethesda proper (not counting acquired studios like id Software and Machine Games) to launch on the current console generation.
Fallout 76 launches November 14. There are no set release dates for Elder Scrolls VI or Starfield.