iPhone XS Leak Suggests Ultra-Cheap Apple Device Will Revive a Fan Favorite
Apple is about to get colorful.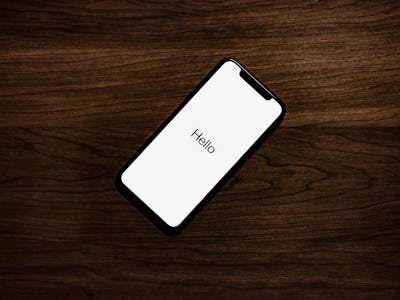 Unsplash / Tyler Lastovich
Apple may be gearing up to echo an old naming scheme with its new iPhones. A post shared over the weekend suggests that while two of the company's three smartphones set to launch this week will sport the "iPhone XS" name, the cheapest one will use the name "iPhone XC."
The Weibo post spotted by Mac Otakara suggests the company will call the $699 6.1-inch LCD device the "iPhone XC," while the $999 5.8-inch OLED phone will be called the "iPhone XS" and the $999 6.5-inch OLED phone will be called "iPhone XS Plus," contradicting a previous leak that the largest phone will be called the "iPhone XS Max" and suggesting Apple will follow the same pattern as it had for previous larger-screened devices. The "XC" name, however, would be the first time the company has used the "C" suffix since the iPhone 5C launched in 2013, a plastic-backed reworking of the previous year's iPhone 5.
The iPhone 5C, which launched at $99 for a 16GB model on a two-year contract, occupies a curious spot in Apple's history. The company described it as "unapologetically plastic," referencing the fact that its flagship models made strong use of metal and glass to deliver a premium finish. The iPhone 5S unveiled at the same time sold twice as many units, which perhaps explains why Apple never released a successor under the "C" name, but its slightly larger battery than the 5 and its resilient design earned it a number of followers.
The $699 iPhone, expected to use the same face scanning and giant screen design as its more expensive siblings, is set to also bring a spash of color to proceedings. Analyst Ming-Chi Kuo predicted in Jule that the phone would come in a choice of five colors, sporting red, white, blue, grey and orange. Another report from Mac Otakara suggested the phone would come in black, white, yellow, orange, blue and taupe. The 5C came in green, blue, yellow, pink, and white.
All should be revealed when Apple takes the stage at 10 a.m. Pacific time on September 12, at the Steve Jobs Theater at the company's campus in Cupertino, California.