Tyrion Loves Dany, But It's "Complicated," 'Game of Thrones' Star Says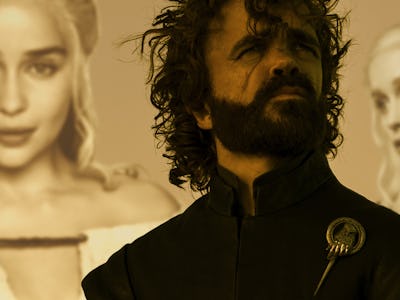 HBO
Is the Hand of the King jealous that Jon Snow and Daenerys have fallen for each other? (Gross, BTW.) Game of Thrones star Peter Dinklage says yes, but it's also way more "complicated" than it seems.
In a new interview with Entertainment Weekly, Dinklage describes Tyrion Lannister's "jealous" feelings for Daenerys (Emilia Clarke), who has fallen for her nephew (unknowingly) Jon Snow, played by Kit Harrington, in the most recent season of HBO's monster hit fantasy Game of Thrones.
But it's more involved than just another boring romantic love triangle.
"No, ah, it's complicated…" Dinklage said. "Obviously, he has feelings for Daenerys. He loves her — or thinks he does. She's awe-inspiring. He's questioning that because he doesn't have a good track record for falling in love. There's jealousy wrapped up in there."
Dinklage adds that Tyrion "loves Jon Snow, too."
"They're the two people he has the most in common with, in a way," Dinklage said. "They're both outsiders in their own families who have refused to follow the path their family has taken, and hopefully for the better. He's wondering how smart of a move [Jon and Dany getting romantically involved is], because passion and politics don't mix well. He knows the two of them getting together could be very dangerous."
Dinklage's points are extremely compelling. (Also, who is anyone to argue with Tyrion Lannister himself?)
But it's important to note that Dinklage is strongly hinting that Tyrion isn't just another puppy dog for Dany, who has a knack for breaking hearts (and chains).
Emotions are complex and people, including fictional characters, are allowed to feel a spectrum of things. For Tyrion, he might have a crush on Dany (and maybe Jon, too?), but there are more pressing matters at stake.
Game of Thrones Season 8 will premiere in 2019.