Everything to Know About 'Destiny 2: Forsaken' Exotics and Level Caps
Big changes just came to 'Destiny 2.'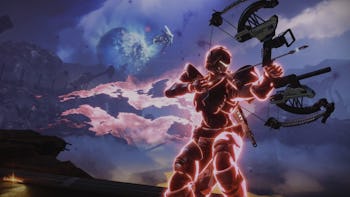 Bungie/PushSquare
If you're just jumping into Destiny 2: Forsaken you might be wondering what new exotic weapons were added to the game as part of its latest (and greatest) expansion. Of course, you can always hunt down Cayde-6's trusty Ace of Spades hand cannon, but read on for a full breakdown of the new exotics in Destiny 2: Forsaken, along with the updated level caps included in the same DLC.
Destiny 2: Forsaken Exotics
The "Forsaken" update added a ton of new exotic items to Destiny 2. So there's something for everyone whether you prefer to play as a Titan, Hunter, or Warlock. It's unclear exactly how many special new exotics are out there, but you'll definitely want to keep an eye out for any related to the new bow and arrow weapon type. For more info, head to GameSpot, which has a full breakdown of every exotic they've found so far, with images and stats for each in a handy slideshow format.
PS4 players will also be able to take advantage of some exclusive exotics in Destiny 2: Forsaken. That includes a new Wavesplitter weapon, an exotic ship called Great Beyond, a special set of armor for each class, and a new Strike. This is a limited time exclusive, but it's expected to last for at least a year before hitting other gaming platforms. Sorry, Xbox and PC gamers.
Destiny 2: Forsaken New Level Cap and Power Level Cap
When it comes to leveling up, Destiny 2: Forsaken offers one of the biggest jumps in level caps yet. The general level the cap has been raised from 30 to 50. Meanwhile, the new power level cap is 600 (up from 385).
That may seem like a lot, but Bungie says it's necessary so players can handle the game's difficult new endgame area, Dreaming City. This zone features new public events, a new game mode, and other secrets, so it's well worth checking out. Just make sure to level up a bit before you do.