Tesla Took All 3 Top EV Sales Spots Last Month, Elon Musk-Shared Stats Show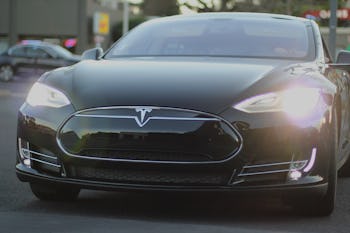 Flickr / jtjdt
Tesla dominated plug-in electric vehicle sales for the month of August in the United States, new figures reveal. The stats released Wednesday, subsequently shared by CEO Elon Musk on his personal Twitter page, showed the Tesla Model 3 in pole position by an incredible majority, followed by the Model S and Model X in second and third position respectively.
The InsideEVs figures show Tesla's plans to ramp up Model 3 production are paying off. The company delivered an estimated 1,875 of its cheapest electric vehicles in January, claiming a solid first-place lead that rose to reach 6,000 in the month of May and a staggering 17,800 in the month of August. The Model S, meanwhile, sold 2,625 vehicles in August while the Model X sold 2,750 vehicles. Toyota's Prius Prime plug-in hybrid took fourth place with 2,071 vehicles in the month, but retains second place in terms of overall annual sales. With hybrids removed from the list, the three Tesla models have a near-unassailable lead over the Nissan Leaf in fourth place for monthly sales, which sold 1,315 in August and just beat out the fifth-placed Chevrolet Bolt with 1,225 sales.
See more: Tesla Model 3 Report Claims Company Missed a Key Production Goal
The report comes just days after one that claimed the Tesla Model 3 missed its August production goal. The report, citing an insider source, claimed the company produced around 4,300 vehicles in the last week of August, missing its internal goal of a production rate of 6,000 per week by the end of the month. The above stats show, however, that despite the potentially lower production rate the company is still enjoying a commanding lead over the competition.
Tesla has big plans to expand from here. It's been demonstrating the second-generation Roadster at the Grand Basel auto show, two years ahead of its planned production start date, with the $200,000 car planned with a range of over 600 miles and a top speed above 250 mph. The company has also been showing its Semi electric truck prototype to potential buyers in a road tour showing how it can move across the United States without any support vehicles.
Tesla is also planning a cheaper sports utility vehicle to act as a complement to the Model 3. The Model Y would act as a cheaper version of the Model X, with Musk suggesting the vehicle could be revealed as soon as March.
Musk is also planning a new Tesla pickup truck, packed with sonar technology and 360-degree cameras.