Pew Study Finds 44 Percent Facebook Users 18-29 Deleted App from Phones in Past Year
Odds are you know somebody who has deleted Facebook from their phone.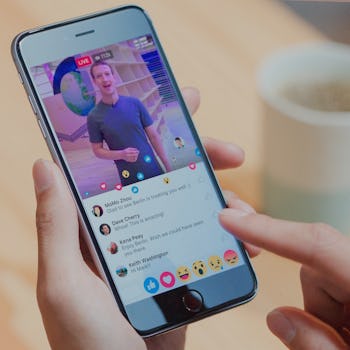 Facebook
Facebook might be in trouble, and not just because Sheryl Sandberg had to testify before Congress on Wednesday about foreign interference and fake news on the platform. According to a new Pew Research Center study, 44 percent of younger U.S. users (in this case, aged 18 to 29) say they have deleted the Facebook app from their phone in the last year. That's a lot of millennials and Gen Z users, key to keep the app relevant and growing.
The new survey found that around a quarter — 26 percent — of Facebook users 18 and older have deleted the Facebook app from their cellphone. That's already a huge chunk of users that Facebook executives should probably be concerned about, but younger users especially seem to be getting rid of the app on their mobile devices in the greatest numbers. The findings are from a survey of adults in the United States, conducted between May 29 and June 11, and done after former data firm Cambridge Analytica was revealed to be collecting data on millions of Facebook users.
See also Facebook Breach: How to Know If Cambridge Analytica Stole Your Data
The survey also asked users if they had adjusted their privacy settings in the past 12 months, as privacy concerns with the platform have become common knowledge. 54 percent of Facebook users ages 18 and older have done so, according to the results, but, notably, 64 percent of younger users have adjusted their settings compared to just a third of Facebook users 65 and older. Plus, only 12 percent of users ages 65 and older deleted the Facebook app from their phone recently, so clearly, age is a factor here.
Speaking of factors, the Cambridge Analytica scandal definitely seems to be a big cause for users changing the way they use Facebook in the past year, according to the survey. Nearly one-in-ten Facebook users (9 percent) have downloaded the personal data about them available on Facebook, which the site made easier to get after the revelations came out. What should be more concerning to Facebook is the finding that 37 percent of the users who downloaded their personal data deleted the app from their phones.
Facebook should probably pay attention to this stat too: About four-in-ten users reported to Pew that they've taken a break from checking Facebook for a period of several weeks or more in the past 12 months — 42 percent of them. It could be tough to make those users daily Facebook checkers again.
Pew reported back in February that around seven-in-ten Americans use social media to connect, and that young adults were some of the first social media adopters and continue to use it at high rates. But if users across demographics are using the platform less, and young users keep deleting it from their phones entirely, those numbers could certainly change very quickly.