Brie Larson Looks Ready to Throw Down in Official 'Captain Marvel' Photos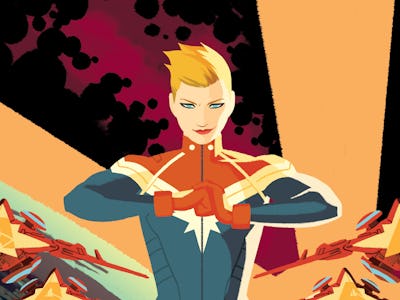 [4]
Captain Marvel has officially joined the Marvel Cinematic Universe in the first official photo of Brie Larson as the character — and plenty of details about her starring turn in Captain Marvel.
Entertainment Weekly revealed on Wednesday that Captain Marvel would be featured as an upcoming cover story.
"She can't help but be herself," Larson told EW. "She can be aggressive, and she can have a temper, and she can be a little invasive and in your face. She's also quick to jump to things, which makes her amazing in battle because she's the first one out there and doesn't always wait for orders. But the [not] waiting for orders is, to some, a character flaw."
In the first official photo, Captain Marvel is flying up in the air with both her fists enflamed. Whoever she's looking at so intensely should be worried, especially when Marvel president Kevin Feige said awhile ago that she was the most powerful MCU hero. The costume does have the classic colors of the character in comics, unlike what early set photos implied.
Here's a look at the photo:
EW also confirms that Captain Marvel already has her powers when the movie starts at some point in the '90s. "She's left her earthly life behind to join an elite Kree military team called Starforce, led by Jude Law's enigmatic commander." But eventually, Danvers returns to Earth to combat a Skrull invasion, as led by Ben Medelsohn's Talos.
"This is not a superhero who's perfect or otherworldly or has some godlike connection," Anna Boden, the MCU's first female director, said. "But what makes her special is just how human she is. She's funny, but doesn't always tell good jokes. And she can be headstrong and reckless and doesn't always make the perfect decisions for herself. But at her core, she has so much heart and so much humanity — and all of its messiness."
Actress Brie Larson originally teased this big reveal by casually suggesting to Entertainment Weekly that they "break the internet" on Wednesday. If you thought that meant a Captain Marvel trailer you were wrong, but this new image isn't bad.
This kind of lightly viral Twitter stunt is deeply reminiscent of the way Marvel Studios announced the shift in the Avengers: Infinity War release date to be one week earlier. In that case, Robert Downey Jr. (who plays Tony Stark, aka Iron Man) flirted over with the official Marvel Studios account.
Captain Marvel was first teased in Avengers: Infinity War mid-credits scene when just before dying, Nick Fury used a souped-up pager to call someone. The pager showed the logo for Captain Marvel, so the easy assumption is that he called Captain Marvel so she might return to Earth and help try to undo Thanos wiping out half the universe.
Captain Marvel will be released in theaters March 8, 2019 and it's the last Marvel film before Avengers 4 hits theaters on May 3, 2019.