'Captain Marvel' Designer Has Reassuring News About the Hero's Costume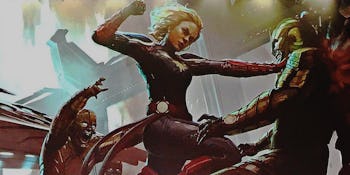 Marvel Studios
Anyone still concerned about Captain Marvel's costume in the hero's upcoming Marvel film, Captain Marvel, can relax. Brie Larson's superhero costume is probably, definitely going to look like it should.
In a recent interview, Andy Park, the visual development supervisor of Marvel Studios, tells Inverse that fans "will be happy" about Larson's costume as the spacefaring bruiser, Captain Marvel.
"I think people will be happy. You've seen the concept art," he says. "We can't spell out what that means, but I can say it's too early for fans to be judging the colors when they don't know the story."
Park said the same thing in another interview with ComicBook. "I would just say I would hope that they would just know from the past that judging too quickly is … How do I word this? They're going to be happy. I think they're going to be happy," he said.
The concern stems from photos that were released of Captain Marvel in a green costume. A far cry from her well-known red and blue outfit, fans were vocal about her color scheme after seeing the image, though many fans are speculating the green uniform is a Kree military uniform, which she briefly wears in the comics before her more iconic blue, red, and gold costume.
Last year, Marvel released Park's concept art of Captain Marvel at the 2017 San Diego Comic-Con, with Larson in the red and blue suit. Kevin Feige, the head of Marvel Studios, recently talked about Park's Captain Marvel art and the green uniform in an interview with Vulture.
"Most people are savvy enough to know they're looking at a behind-the-scenes photo, completely out of context," he said. "So we don't do things like rush photos. We released some concept art of her with different colors. People online have correctly identified what's going on there."
Captain Marvel centers on Brie Larson's Carol Danvers, and the Nineties-set film will introduce the hero into the Marvel Cinematic Universe. In addition to Larson, Samuel L. Jackson will reprise his Marvel role of Nick Fury for the film. Jude Law, DeWanda Wise, Ben Mendelsohn and Gemma Chan are among the new faces appearing in the upcoming Marvel film.
Captain Marvel is set to premiere on March 8, 2019.
Eric Francisco contributed reporting for this story.