The 'Fortnite' Cube's Final Location Could Mean Big Changes for Season 6
We finally know where the purple cube is headed.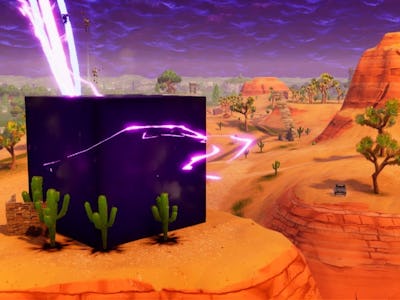 YouTube: It's Dqzzi
First, there were the rifts and now there is the cube (ALL HAIL THE CUBE). Season 5 of Fortnite: Battle Royale recently introduced a mysterious glowing purple cube that seems to be zigzagging across the map. It's unclear exactly what it's for, but tracking down this unnatural object will take a little work since it regularly moves across the map.
Thankfully, Fortnite data miners @TwoEpicBuddies put together a movement map for the Fortnite cube on Wednesday, revealing the cubes previous trajectory and where it's headed according to allegedly leaked info. Of course, there's still a bit of trial and error involved, but at least this way you won't just be searching in the dark.
Here's that Fortnite cube movement map:
As one Twitter user points out, the map itself also forms a cube of sorts, which is exactly the kind of clever world-building that makes Fortnite so great. That still doesn't explain what the cube is actually for, but it certainly is interesting. Right?
It's worth noting that the cube is currently about halfway through the route above, according to Fortnite Cube Tracker (a website specifically devoted to relaying the location of the cube). After starting in the desert biome, the cube is currently hanging out just East of Tilted Towers at the center of the map.
According to @TwoEpicBuddies, the Fortnite cube will continue on its zigzaggy trajectory before eventually winding up just North of Tilted Towers. Could this mean the popular-but-hellish landing spot could finally be destroyed as we head into Season 6? Maybe the cube can use its anti-gravity powers to lift the entire city right off the map.
That sounds pretty great to us, but only time will tell. For now, you can use this map, along with the Fortnite Cube Tracked website to keep track of the mysterious objects locations.