Here's Exactly What Time You Can Start Playing the 'Destiny 2: Forsaken' DLC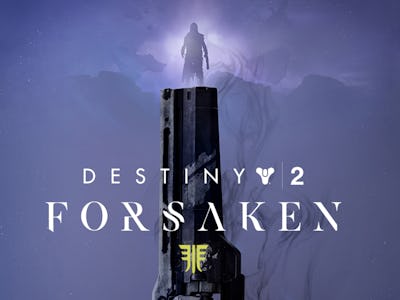 Bungie
Destiny 2's biggest update ever is set to launch today, but what time exactly will the "Forsaken" DLC release? Here's everything you need to know about the imminent update.
To begin with, Destiny 2 developer Bungie is releasing a small update, called a hotfix. This is version 2.0.0.1, which sets the stage for "Forsaken." That's scheduled to hit at 10 a.m. Eastern, so it should be available now and you'll need to install it to get the DLC.
Then, at around 10:30 a.m. Eastern, Destiny 2 is set to go offline for a little under three hours for maintenance while the Forsaken DLC is installed. During that time you won't be able to play, and you'll only have access to the main title screen.
Finally, at 1 p.m. Eastern the Destiny 2: Forsaken DLC should be ready, meaning you can jump back into the game and enjoy this massive new update. Of course, it's possible things could take a little longer than planned. So don't be surprised if you can't play right at 1 p.m. Eastern. But assuming you're busy at work or school anyway, you should be able to jump back into Destiny 2 as soon as you get home later today.
Destiny 2: Forsaken introduces a bunch of major changes to the game, including a fresh story all about a group of Fallen Barons that you'll have to hunt down. There's also a new Patrol area called The Tangled Shore, and a new Raid set in another new area called The Dreaming City.
When it comes to gameplay, Destiny 2: Forsaken is introducing a bow and arrow weapon type and nine new Supers, along with some other improvements to various weapons and the game's user interface.
Destiny 2: Forsaken launches September 4.*