Bungie Details Huge New Changes Coming to 'Destiny 2' Before "Forsaken" Update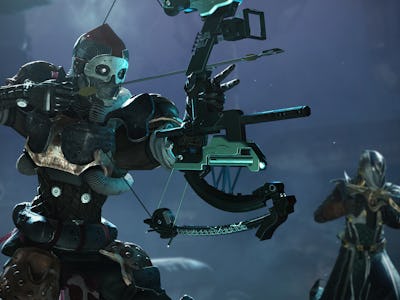 Activision
It's a common joke, usually from Fortnite players in the YouTube comments section, that no one is playing Destiny 2 anymore. Besides the fact that this is patently false, the forthcoming "Forsaken" expansion, out September 4, means a lot more Guardians may return to the Tower later this summer.
But a minor schedule change in the "Roadmap" to the release for Forsaken by Bungie means Guardians might be spawning even sooner than expected.
On Wednesday, Bungie released an updated "Roadmap" to Destiny 2: Forsaken, a list of updates that have been added or will be added to the game. In a change from the last Roadmap we saw in June, Bungie revealed that specific, highly in-demand updates like weapon slot changes, bulk delete shaders, and additional storage vault slots will be coming a week earlier than previously announced, on August 28 in the 2.0.0. update titled "Preloading Forsaken."
None of these updates are as big as, say, a new campaign mission, but they're still features that will vastly improve the user experience. No longer will deleting shaders take longer than it should! No longer will we have to choose between precious Legendary weapons to dismantle!
And by Osiris, the weapon slot changes. One of the more controversial changes in Destiny 2 when it launched in September 2017 was the retooling of the weapons system. In the original Destiny, weapons were classified simply as primary, secondary, or heavy. Life was good. In Destiny 2, they were reclassified as Kinetic, Energy, and Power, which made things a little more confusing and restrictive than they ought to be. Life was not as good.
With the (new) 2.0.0. update, things are kinda going back to the way things were. The difference now is that ammunition is getting classified. This opens up a Pandora's Box of creativity from players, who now can wield nothing but shotguns or snipers but will have different kinds of shotguns and snipers at their disposal.
Will these changes be able to encourage gamers to step away from Fortnite and resume the fight to save the last city? With Bungie offering these really important changes a week earlier, before the big arrival of Forsaken, Ghost can only hope. Eyes up, Guardian.
Update 2.0.0. is coming to Destiny 2 on August 28.