Todd McFarlane's 'Spawn' Will Use Scary Real VFX From 'The Walking Dead'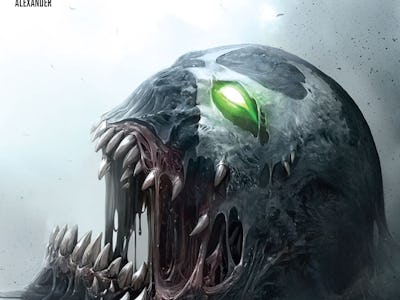 Image Comics
Image Comics co-founder Todd McFarlane is moving into the director's chair for Spawn, a reboot adapting his comic book first introduced in the early '90s. But McFarlane isn't doing it alone. The film's latest recruit is a major industry talent renowned for their work on AMC's monster hit series The Walking Dead.
On Wednesday, ComicBook reported that Greg Nicotero and his visual effects outfit KNB EFX Group are working on bringing the supernatural terror of Spawn to the big screen. The film will star Jamie Foxx and Jeremy Renner, and is slated for a 2019 release date.
In an interview, McFarlane said Nicotero's team was chosen to help emphasize real, practical effects over CGI work.
"When I conceived of the story to start with, I never really thought of it as big special effects extravaganza because I knew we weren't going to have the budget for it," McFarlane told ComicBook. "So I knew I was going to rely heavily on practical makeup and costuming, and one of the places that kept popping up was my good pal Greg Nicotero on his KNB Group."
KNB EFX, located out of Chatsworth, California, has performed special effects, creatures, and make-up work for Hollywood productions since 1988. Some of their most notable works include the first five seasons of AMC's The Walking Dead, as well as movies like The Amazing Spider-Man 2 (2014), Sin City (2005) and Sin City: A Dame to Kill For (2014), Predators (2010), Django Unchained (2012), and This Is The End (2013). And many, many more.
Nicotero also worked on the original 1998 film version of Spawn, which starred Michael Jai White in the title role. Among other things the film is still remembered for, its remembered for its heavy reliance on then-cutting edge computer effects hasn't aged well after twenty years, to no one's fault.
McFarlane has repeatedly gone on record about how his new Spawn isn't going to be a traditional superhero blockbuster but a low-budget supernatural thriller. It's no surprise, then, that McFarlane is teaming up with renowned horror studio Blumhouse.
"I think it would be a mistake for people to go, 'Oh, it's going to look like the first movie.' No. That's not the task nor is that sort of where we're at creatively," McFarlane said. "So when I sat down with Greg and his staff, I just said, 'Here's what I see visually.' I gave them some reference at some images throughout the 25-year history of Spawn that I thought was close to what I was talking about. And then I just stepped back and let them start taking a whack at it."
Because the new Spawn is sporting a small budget by industry standards, and emphasizing the horror aspects of the demonic character than the "superhero" stuff, practical VFX is a welcome notion.
Spawn will be released in theaters in 2019.
Related video: The trailer for Season 9 of The Walking Dead.