BlackBerry Key2 Keyboard-Touting Android Phone Gets Release Date at IFA
TCL is making a play for keyboard fans.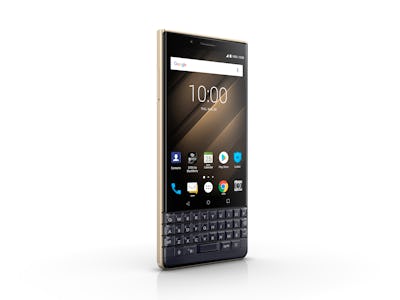 TCL
BlackBerry is back. On Thursday, manufacturer TCL Communication took the wraps off its latest Android 8.1 Oreo smartphone emblazoned with the brand at the IFA Berlin technology conference. The Key2 LE is a cheaper version of the firm's $649 Key2 launched earlier this year, offering a new choice to consumers bored of the same humdrum smartphones that look like a single flat slab of glass.
"Today's smartphones try to offer a one size fits all solution, but that is no longer realistic when we have a global marketplace as diverse as we have today," said Alain Lejeune, senior vice president of TCL Communication and president of BlackBerry Mobile. "But this is why we focus on making modern BlackBerry smartphones like Key2 LE, to stand out and deliver a great experience for everyday communication, with access to all the features, connectivity and applications our customers expect."
The brand used to be a common sight on the street, offering a full keyboard when most phones still offered a tedious set of numbers for tapping messages, but Apple's announcement of the iPhone in 2007 spurred a market shift toward button-free giant touchscreens. In 2015, BlackBerry made a bold comeback with the $700 Priv that combined keyboard and giant touchscreen, and since then it's continued working with manufacturers to create Android phones for those that miss the feel of actual buttons.
The phone touts a keyboard in the lower third, appealing to those that miss tapping away on real buttons to write messages. The device will go on sale next month in the United States in a 32GB variant for $399 and a 64GB variant for $449, both of which will also support microSD storage. The phone will also launch at the same time in countries around the world including Germany, France the United Kingdom, the United Arab Emirates and Canada. Customers will be able to choose from color options of slate, champagne and "atomic" (also known as red).
The Key2 LE has a polycarbonate frame with soft texture back aimed at providing easier to grip. The 35 keys, 34 of which are backlit, are nearly 10 percent larger than those on the KeyOne, and it includes a speed key that offers up to 52 customizable shortcuts for reaching apps, contacts and more at a moment's notice. The 4.5-inch screen has a resolution of 1,620 by 1,080 pixels, offering 434 pixels per inch, a higher pixel density than the iPhone 8 Plus. The whole construction weighs 0.34 pounds (156 grams).
On the back, a dual rear camera offers 13 megapixels on a lens with 79.8 degrees field of view and five megapixels on a lens with 84 degrees field of view, offering the same "portrait mode" as found on the more expensive Key2. The rear camera can also capture 4K video at 30 frames per second, plus a dual-tone LED flash. The eight-megapixel front camera can shoot 1080p video at 30 frames per second, has an LCD screen flash and supports panoramic front images, and offers integration with Google Lens.
Internally, the phone is powered by a Qualcomm Snapdragon 636 processor, with 4GB of RAM. A 3,000 mAh battery provides up to 22 hours of life, plus support for Qualcomm Quick Charge 3.0 will get users back on the move fast. On the connectivity front, it offers support for Bluetooth 5.0 LE, NFC and Wifi, while it uses USB-C to charge. And yes, it offers a 3.5mm headphone jack.
If anyone can convince consumers keyboards are cool, it's probably BlackBerry.