BlackBerry's Next Android Phone Wants to Bring Back Physical Keyboards
The world has learned to peck out messages on glass screens, but BlackBerry thinks it has a better idea.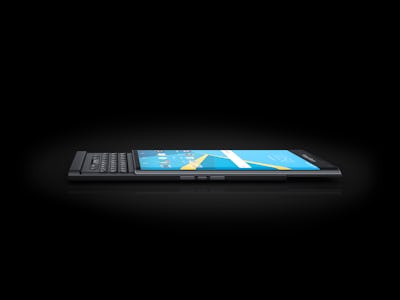 BlackBerry
BlackBerry has revealed plans to buck the smartphone trend and release an affordable Android smartphone with a physical keyboard. The device would follow up from last year's Priv, which also packed a BlackBerry keyboard into an Android smartphone but cost a staggering $700.
In a world dominated by touchscreen smartphones, releasing a phone with a keyboard seems like a brave move. When Steve Jobs took to the stage to announce the iPhone in 2007, he famously decried physical buttons as outdated relics. But before the iPhone, BlackBerry keyboards had near-legendary status, and the company has shown it has some big ideas for how a physical smartphone keyboard could work better with today's technology.
Company CEO John Chen told The National that it heard a lot of consumers wanted to buy the Priv, but couldn't afford it. "The fact that we came out with a high end phone [as our first Android device] was probably not as wise as it should have been," Chen told the outlet in an interview published Thursday. Instead, Chen heard, people were more interested in phones around the $400 mark.
These new keyboards aren't necessarily a rehash of BlackBerry's glory days. In the case of the Priv, the keyboard has special sensors that can detect the owner's finger. A user can run their thumb over the keys without pressing down to scroll through information. Swiping up accepts autocorrect suggestions, while swiping down brings up a list of symbols to pick from.
Chen did not reveal whether BlackBerry would put similar tech into its new phone, but the Priv shows the company still has bold ideas about how a physical keyboard might work in 2016.
BlackBerry isn't putting all its eggs in one basket, however. Chen said the company will also release a mid-range Android device without a keyboard, closer to the design of most phones on the market. If anything, this plan suggests even BlackBerry isn't entirely sure whether physical keyboards are the future.