IFA Preview: All the Wildest Gadgets at Europe's Biggest Electronics Show
Including the first 8K OLED TV.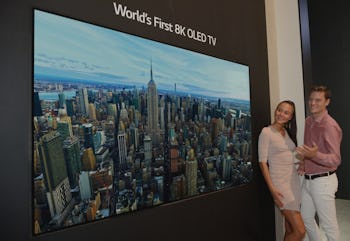 LG
Europe's biggest tech show kicks off this week, IFA Berlin, and consumers can expect to see some weird and wonderful creations rolling out into the show floor. With a super hi-res television, a phone with more cameras than you'll ever need, and a possible new BlackBerry, there's all number of ways the show will impress.
The show, whose name stands for "Internationale Funkausstellung," boasts one of the largest attendances in the world. Last year's show sold out 159,000 square meters with 1,805 exhibitors. This year's show, set to take place August 31 to September 5 at the Messe Berlin Exhibition Grounds, is set to focus on big areas like artificial intelligence, autonomous cars, smart cities, voice controls and more.
Here's some of the highlights of what you can expect:
A New BlackBerry
BlackBerry is back again. The keyboard-touting phone, trounced by the iPhone at the turn of the decade, has slowly made a name for itself a second time round in Android-powered form. The Verge reports that the Key2, this year's business-savvy mid-range Android phone, could get an even cheaper version than the existing $649 model.
The Key2 LE, as it is reportedly called, could feature a Snapdragon 636 processor, 4GB of RAM and a 3,000 mAh battery. While the original didn't exactly wow reviewers, it shows BlackBerry isn't giving up just yet on some of that decade-old nostalgia for a time when phones didn't have touchscreens.
World's First 8K OLED TV
LG announced on Wednesday that it will introduce the world's first 8K OLED TV at the electronics show. For those not keeping up, that's 7,680 by 4,320 pixels. The 88-inch set boasts a staggering 33 million pixels, backed by a technology that allows each pixel to switch off individually and render truly deep blacks.
The idea of an 8K screen surpassing 4K isn't exactly new. Japanese public broadcaster NHK discussed its work on Super Hi-Vision back in 2008, with a view to starting transmissions in 2025. The broadcaster was actually able to beat this deadline by nearly a decade, starting up transmission in time for the Rio Olympics in 2016.
It's not all good news, though. Masuru Kanazawa, NHK research engineer, told the BBC in 2008 that 8K "requires a screen size of at least 60 inches which means there are limits on the usage of the system," and that viewing rapid images from a short distance could "make people feel sick."
A Five-Camera Phone
LG could be on the verge of a camera-packed phone. The rumored V40 is expected to pack three cameras on the rear and two on the front, transforming it into a five-camera extravaganza. In true iPhone X style, it will house the front two and the microphone in a screen notch. This also enables the use of a 6.3-inch screen and a near bezel-free design.
Robot Dogs?
Sony is expected to launch a new range of Xperia smartphones at the conference on Thursday. Tipped for the top spot is the Xperia XZ3, a flagship device that could sport dual front and rear cameras. Alongside this could be the XA3 as a mid-range model.
But perhaps even more interesting is what else Sony could show at the event. The firm announced last week that it plans to relaunch its Aibo robotic dog in the United States with a $2,899 price tag and the ability to remember 100 faces. Considering how IFA has been known to host dog-based devices in the past, we could see more uses for the company's weird woofer.