'Star Wars IX' Casts 'Doctor Who', 'The Crown' Star Matt Smith in Mystery Role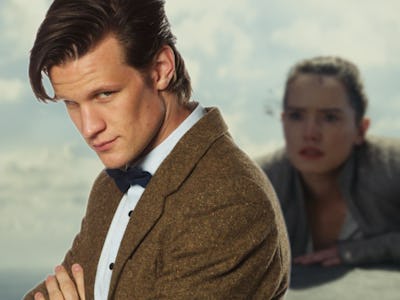 Lucasfilm, BBC
Five years after he left Doctor Who, Matt Smith may trade his Sonic Screwdriver for a lightsaber.
On Tuesday, Variety reported that Emmy-nominated actor Smith (who also played Philip, Duke of Edinburgh on The Crown) has joined the cast of Star Wars: Episode IX, playing a role yet to be announced.
Production on the next film in the Star Wars saga is currently underway in the UK.
Smith is not the only newbie to the franchise from a galaxy far, far away. The former star of Doctor Who also joins newcomers Keri Russell (The Americans), Richard E. Grant, Dominic Monaghan (Lost), and Naomi Ackie, who also appeared in Doctor Who as a supporting character in a 2015 episode.
Star Wars: Episode IX will also have returning faces in John Boyega, Daisy Ridley, Adam Driver, Kelly Marie Tran, Mark Hamill, and the late Carrie Fischer, who will appear via unused footage from The Force Awakens.
Billy Dee Williams will also reprise his role as Lando for the first time since 1983's Return of the Jedi.
While Matt Smith earned acclaim for his role in The Crown, it was his four-season run as the charismatic, enigmatic Eleventh Doctor in the BBC sci-fi series Doctor Who that first earned him mainstream fame.
In 2009, Smith succeeded David Tennant, the "Tenth" Doctor, as the new Doctor, a time-traveling alien who can regenerate with a new name and personality after a grave injury. When Smith was hired at the age of 26, he became the youngest actor in the show's 50-year history to play the part.
In 2013, Smith left the series and was replaced by Peter Capaldi. In 2017, Capaldi bowed out, which allowed the show to cast Jodie Whittaker, who will become the first woman to play the Doctor when the show returns in the fall.
Star Wars: Episode IX will be released in theaters on December 20, 2019.