Mark Hamill Says Leia's Return for 'Star Wars: Episode IX' Is "Bittersweet"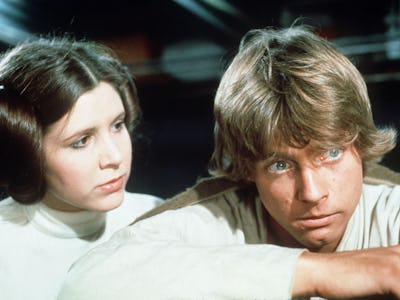 Lucasfilm
The biggest news to come out of Lucasfilm's official reveal of the of the Star Wars: Episode IX cast was the confirmation that Luke Skywalker and Leia Organa would be returning for the upcoming film. Mark Hamill will presumably play a Force Ghost version of Luke, since the iconic character became one with the Force at the end of The Last Jedi, while Leia's appearance will consist of unused Force Awakens footage in the wake of Carrie Fisher's death. For Hamill, it's a "bittersweet" situation.
On Sunday, a couple days after the Friday afternoon announcement, Hamill took to Twitter, as he is wont to do, to offer his thoughts on what will almost certainly be his and Fisher's final Star Wars "together."
"It's bittersweet facing my final chapter without her," Hamill wrote. "She is simply irreplaceable. I'm finding solace in the fact that she won't BE replaced & would love the worldwide outpouring of affection from those who loved her when they heard the news. #CarrieOnForever."
Hamill's relief that Leia hasn't been recast comes in the wake of more than a year's worth of speculation that Lucasfilm would hire another actress to play the part or that the studio would make a digital version of the late actress, the way they did for Peter Cushing's Grand Moff Tarkin in Rogue One: A Star Wars Story. (Lucasfilm made a digital, de-aged Fisher to bring back Leia in that same movie, but that's different than bringing a deceased actor back to life, so to speak).
Hamill and Fisher only shared one scene in The Last Jedi, but it was a memorable one, as Luke Force-projected himself to the Resistance base and shared a tender moment with his sister. It seems doubtful that Luke and Leia will grace the screen together in Episode IX, given that director J.J. Abrams only has leftover Force Awakens footage to work with, and it's unlikely that those scenes set up a meeting between Leia and her brother's ghost.
You never know, though. Maybe the trilogy will end with Force Ghost versions of Luke and Leia looking at the next generation, the way Anakin, Obi-Wan, and Yoda looked at Luke in Return of the Jedi.
Star Wars: Episode IX comes out on December 20, 2019.