'Fortnite' Battle Royale Starter Pack Has the Best Back Bling Ever
Who wouldn't want to brandish a bag full of money?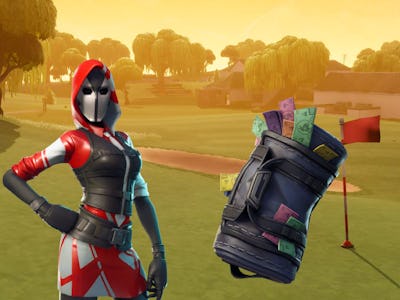 Epic Games
Fortnite just introduced a new currency into the game that's utterly worthless to the player, except that its inclusion also created the greatest back bling we've ever seen. Whereas most back bling cosmetic items offer painfully simple backpacks, this one's got a fun new spin.
Say hello to the Swag Bag Back Bling.
Developer Epic Games released the third Fortnite Starter Pack on Tuesday morning, and just like the others, it includes an exclusive outfit, back bling, and a bundle of 600 total V-Bucks. Even just the value of V-Bucks — about $1 per 100 — makes this an incredible value purchase for players.
The playing card-themed outfit called "The Ace" looks like a leather-clad biker put on a hooded dress and strapped a leather vest, belt, and gloves on top with an intense hockey mask. So it's an awesome new skin even for veteran players. Even for just the skin, $4.99 would be an incredible value for new players that don't want to use the default skin, especially considering similarly valued outfits cost around 1,500 V-Bucks — or around $15.
The real selling point here, however, is a generic duffle bag bursting at the seams because it's chock full of colorful cash. It's totally ridiculous, and makes us assume that this character is some kind of badass bankrobber that accidentally hopped onto the battle bus to escape the police.
All players need to do to cash in on this great deal is to go to the PlayStation or Xbox store and purchase the Starter Pack by finding the add-ons under Fortnite. It'll cost whatever currency the player's console of choice uses, and not V-Bucks.
Players always have the choice of not buying this or other cosmetics, and playing Fortnite entirely for free. But what's the point of winning battle royale if you won't look cool doing it?
Related video: 'Squad Up' is the Inverse talk show that takes place entirely inside 'Fortnite'. Follow us on Twitch!