'Fortnite' Players Can Now Thank the Bus Driver, All Because of a Meme
We're all better people for it.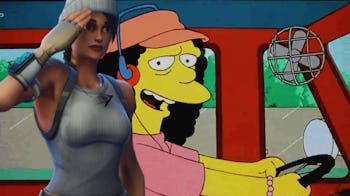 Fox / Epic Games
Perhaps the greatest courtesy any Fortnite: Battle Royale player can give these days is to thank the mysterious person who drives the Battle Bus. Epic Games just added a new pseudo-emote to the game as part of the version 5.30 update that allows players to do just that, and while it comes as the successful result of a petition, the phenomenon has roots in a truly dank meme.
Developer Epic Games rolled out the version 5.30 update for Fortnite on Thursday morning. Along with the introduction of the Rift-to-Go portable rift portal item and the Score Royale LTM, the latest update also sneakily introduced the new props feature.
Though it's not included in the official 5.30 patch notes, players quickly discovered Thursday morning that by pressing down on the D-pad, they could thank the Battle Bus driver. (PC players can press the "B" key.) A small message pops up in the gameplay feed that each player "has thanked the bus driver." And that's it.
This new optional gratitude comes as the direct result of a Change.org petition last month that gained thousands of signatures pretty quickly. Here's what the petition said:
"Since I was just a boy I have always loved jumping out of the battle bus. But all this time I have felt something was missing. And that thing is the ability to thank the driver of the battle bus, he or she is truly a great person and they provide us a great service, I think it is time we can truly appreciate thair (their) service, don't you agree?"
The whole thing might seem blatantly silly to the casual observer, but for the meme-literate, it's clear that these people are devoted fans of dank memes. Anyone in the know probably recognizes this as a manifestation of the "People Who Thank the Bus Driver" meme format that originated in June 2018. It all started when the following image from redditor zenerations blew up on /r/dankmemes:
We all die, but only individuals that thank the bus driver get buried in a shiny, glittering sarcophagus. Now, any Fortnite player can join the hallowed ranks of ancient Egyptian kings.
Related video: 'Squad Up' is the Inverse talk show that takes place entirely inside 'Fortnite'. Follow us on Twitch! And check out the time a meme expert broke it down for us: