High School Football Participation Drops in Face of Mounting Scientific Evidence
The risk of injury may be to blame, but it's also being addressed.
by Josie Rhodes Cook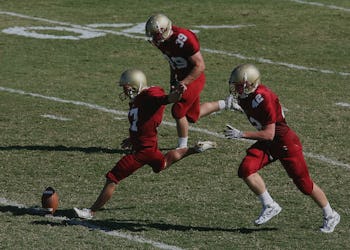 Unsplash / Keith Johnston
New data shows that the decline in high school football participation slowed in 2017-18, with youth athletics leaders crediting improve safety in a sport that's come under scrutiny for its record brain trauma and other injuries.
The mounting evidence that football causes brain and other injuries has been mounting. In July, research published in the Journal of Neuropathology & Experimental Neurology presented evidence that contact sports, such as hockey and football, are associated with an increased risk of Lewy body disease. A 2007 study found that sports are one of the major causes of traumatic brain injuries in people aged 15 to 24, and that football and soccer are the sports whose participants experience the most concussions.
But the decline in high school football participation is not as high as it was in 2016, according to the High School Athletics Participation Survey conducted by the National Federation of State High School Associations (NFHS).
Eleven-player football was the top participatory sport for boys in high school, with 1,035,942 participants in 2017-18. That's good for a two-percent decline of 21,465 from the previous season. From 2015 to 2016, participation declined 2.5 percent, or by 27,865 players. At least one official thinks improved safety measures may have helped.
Karissa Niehoff, NFHS executive director and former executive director of the Connecticut Interscholastic Athletic Conference-Connecticut Association of Schools, said the NFHS is rethinking safety measures.
"We are encouraged that the decline in high school football has slowed due, in part, to our efforts in reducing the risk of injury in the sport," Niehoff said in a statement released with the data. "While there may be other reasons that students elect not to play football, we have attempted to assure student-athletes and their parents that thanks to the concussion protocols and rules in place in every state in the country, the sport of football is as safe as it ever has been."
The fact that the NFHS recognizes that students and families may be concerned about injuries is certainly encouraging in the face of an growing number of high-profile stories of football-related brain injury. Like all team sports, football can help build unity, camaraderie, social skills, and in general, sports build character. Being a part of a team can clearly help people learn how to be a part of one, a useful skill in other personal and professional endeavors.
A University of Kansas study of high school athletes and non-athletes in 2008-2009 found that high school athletes earned higher grades, graduated at a higher rate, and dropped out of school less frequently than non-athletes, among other positive outcomes.
Those reasons to play high school football may not override concerns like the risk of brain damage or chronic traumatic encephalopathy for high school athletes and their families. Actions taken to lower the risk of such complications — like rules that limit the amount of contact before the season and during practices, or the condition that an athlete has to be removed from a game when a concussion in suspected — are welcome for anyone concerned with safety risks.
And it's not all bad news in the world of high school football. The NFHS also notes that the number of schools sponsoring 6-player football increased from 259 to 317 for the 2017-18 year, and school sponsorship of 8-player football increased from 841 to 847.
A full list of NFHS statistics on high school athletics can be found on nfhs.org, and clearly indicates that while 11-player high school football rates may have declined for the second year in a row, it's still an incredibly popular sport that isn't going anywhere anytime soon.