Tyler Hilinski's Death Casts CDC Findings on Football Players in New Light
But there's still not enough research to know for sure.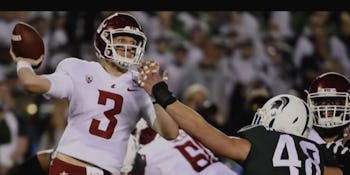 YouTube/ Today
In January, Washington State quarterback Tyler Hilinski died by suicide. And on Tuesday, his parents revealed to The Today Show and Sports Illustrated that the 21-year-old had chronic traumatic encephalopathy. Doctors at the Mayo Clinic, whom his parents had given permission to examine their son's brain, told them of the diagnosis not long after his death: stage 1 CTE.
Hilinski's death and subsequent exam results bring to mind the recent case of Aaron Hernandez, a young professional football player who died by suicide and was posthumously diagnosed with severe CTE. And while the US Centers for Disease Control and Prevention showed in 2016 that NFL players don't have a higher risk of suicide, these cases cast shades of nuance, or even doubt, on those findings.
CTE, a condition that can result from repeated or severe traumatic brain injuries and is most often associated with football players, combat veterans, and boxers, can manifest as a number of symptoms including aggression, depression, and suicidal thoughts. In Hilinski's case, the condition was only in its early stages, but if such a young player could develop CTE, the question hangs in the air, Would he still be alive if he hadn't played football?
"We don't really have a great answer to that question, but the data coming in — in particular, the CTE case-series study from last year in [the Journal of the American Medical Association] — are concerning," Atheendar Venkataramani, an assistant professor of medical ethics and health policy at the University of Pennsylvania's Perelman School of Medicine, tells Inverse.
The set he's referring to is a 2017 study in JAMA, in which doctors found evidence of CTE in 110 out of the 111 deceased NFL players' brains they examined. More recently, Venkataramani co-authored a paper, published in February, that compared health outcomes of career football players to those of temporary replacement players who played during the NFL strike in 1987.
"We found a higher risk of death from all causes after retirement among NFL players, though the small number of deaths preclude strong conclusions," he says. These modest results echo those of the 2016 CDC study that showed no significant difference in suicide rates between NFL players and the rest of the non-pro-football-playing population.
"But that data doesn't answer the question at hand, which is whether Tyler Hilinski would still be alive if he hadn't played football," says Venkataramani. He suggests that particular study didn't show us much information about Hilinski's case since comparing NFL players to people like me and you doesn't tell us much about mental health issues and CTE in high school or college players. Hence Venkataramani's use of the unique group of replacements in his study.
"In our work, we've tried to better understand how playing NFL football influences health by trying to find a better comparison group — that is, rather than compare NFL football players to regular people who are not nearly as healthy or fit, we'd find a group of people who are as physically fit and athletic as NFL players, but happened not to play in the league," he says. "Similar study designs could be helpful in looking at the impacts of exposure to other levels of the sport, like during high school or college."
So until doctors can find ways to conduct more research on the health and well-being of young football players like Tyler Hilinski, we may not know whether his untimely death or the deaths of others like him may be the result of playing football. In the meantime, even veteran NFL players like Brett Favre have begun to question the safety of football.