New 'Star Wars: Episode IX' Set Photos Might Place the Falcon on Batuu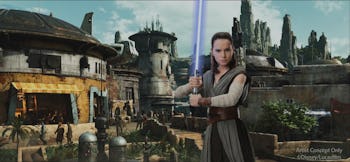 Lucasfilm / Disney
Star Wars: Episode IX is already three weeks into production, and a recent set photo might have direct connections to the new Star Wars theme parks currently under construction in California and Florida.
Making Star Wars leaked a few set photos on Wednesday featuring the Millennium Falcon parked in a dense forest. The photographer claims they were taken in Black Park near Pinewood Studios, where Episode IX is currently filming. The location does vaguely resemble the terrain of Maz Kanata's castle on Takodana, but with the building having been destroyed in The Force Awakens, we can safely assume this location is somewhere new.
That location, then, is probably Batuu, the main setting being used for the upcoming Star Wars: Galaxy's Edge theme parks in Anaheim, California and Orlando, Florida. The planet's official description says that it is "notable for the lush trees" and "a safe haven for those looking to avoid the attention of the First Order." Sounds like there couldn't be a better place for the remaining members of the Resistance to hide.
But that also means this whole thing could be a clever and totally shameless marketing tie-in.
Consider the following timetable: Batuu featured prominently in July's Thrawn: Alliances canonical novel, Star Wars: Galaxy's Edge in Anaheim will open in summer of 2019, Star Wars: Galaxy's Edge in Orlando will open late fall 2019, and then Star Wars: Episode IX hits theaters on December 20, 2019. Prominently featuring Batuu in Episode IX is sure to drive even more foot traffic to the new theme parks after the movie opens. Late-winter through early-spring is peak tourist season for Orlando, so the timing fits perfectly.
This theory also corroborates an announcement from May about an upcoming series of Star Wars books called "Flight of the Falcon." The series focuses on all the places the Millennium Falcon has ever flown, "ending on the incredible world of Batuu." So either the Falcon flies to Batuu as part of Episode IX or it goes there after the new trilogy ends. Either way, all roads lead to Batuu for the Correllian freighter.
Star Wars: Episode IX will be released in theaters December 20, 2019.