Looking Forward To Jane Campion and Elizabeth Moss's 'Top Of The Lake' Season 2
Jane Campion is back for another season of her critically-acclaimed police drama. Be excited.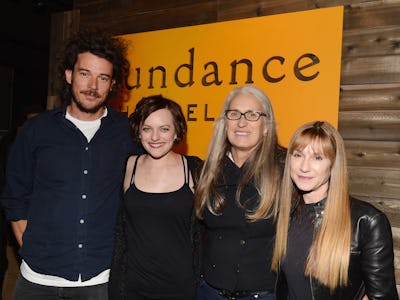 The atmospheric, slow-burn miniseries Top of the Lake marked Jane Campion's first trip to TV land in over 20 years. The New Zealand filmmaker earned a deserved round of applause from critics for the show's refreshing treatment of its subject matter and for her ability to elicit stunning performances from the cast.
Before the series aired, Campion had ruled out any possibility of another season. Perhaps the countless award recognitions convinced her to dive back in, as a sophomore season set to take place in Sydney, Australia starts production at the end of the year. Elisabeth Moss reprises her role as the ruthless detective Robin Griffin, while Campion will co-write once more with Gerald Lee and direct a handful of episodes. Here's what we can look forward to.
1. Elisabeth Moss delivering another award-winning turn
In the six-part debut season, Elisabeth Moss stars as police detective Robin Griffin, a no-nonsense cop who returns to her small hometown, after a career in the big city, to investigate the disappearance of a pregnant 12-year old girl. It's a nuanced performance that typifies the brand of radical female protagonist Campion has brought into cinema through the likes of The Piano, An Angel At My Table, and Sweetie.
At a time in the industry where women are offered a fraction of the dynamic roles men are, Moss was granted a rare opportunity to create another enticing character after her decade playing Peggy Olson. She's captivating when she's both weary and when she's capable. It's not a surprise that she swept up armfuls of awards for her turn.
2. Campion's unique approach to well-trod topics
What elevated the first season from the humdrum to the extraordinary were Campion's thematic and stylistic choices. In choosing to tackle the subject of gender politics within law enforcement, Campion saw an opportunity to strike out with bold revelations, unafraid of any opprobrious backlash. Griffin's own personal backstory hews closely to the case she's pursuing. The sexual assault in her history adds backbone, giving her personal motivation to make a difference in a young girl's life when no-one was around to offer her that same helping hand.
With season two, while we only know the broad strokes, the hope is that same adventurous path will be ventured down. The one of most-resistance. That's where the real gold lie in season one, from the fractured, haunted experiences of Griffin, to the women seeking refuge in the desert.
3. A different kind of binge-watching
Orange is the New Black this ain't. The quality of the story-telling is a million miles away from the sensationalist cliffhanger nature of current TV serials. You want to keep watching because it's simply unmatched on the small screen playing field; nothing comes close to equalling Campion's dreamy vision.
What's most exciting is that it's not your run-of-the-mill police procedural. The millions of TV watchers who have become equipped at "solving" whodunits on week-to-week formulaic network tosh, will find themselves somewhere unfamiliar. With Top of the Lake, if the writing's on the wall, it's smeared and illegible. You're not being spoonfed the answers. Which is most welcome respite from always knowing how it's gonna play out.