Trump Presidency Linked to Substance Use, Mental Health Issues Among Teens
"They may be concerned that their futures might be fairly bleak."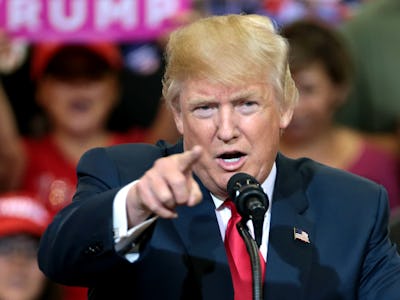 Flickr/ Gage Skidmore
Moved by a news cycle highlighting police violence and systemic discrimination over the past two years, researchers at the University of Southern California Keck School of Medicine took to the streets of Los Angeles to document the ripple effects it might be having on the mental health of youth. After surveying thousands of teenagers over several years, their results, published in JAMA Pediatrics, are disturbing, to say the least.
Led by Adam Leventhal, Ph.D., a professor of preventative medicine at USC, this survey has been ongoing since 2013. Initially, the survey, which has consistently been distributed in ten Los Angeles schools, asked only questions on substance use habits and mental health. But in January 2016, Leventhal tells Inverse, he noticed a societal change that made him rethink the survey; specifically, he noted an uptick in the amount of police violence, changes in legislation regarding same-sex marriage, and a shift in the treatment of ethnic minorities in America at large. So, he adjusted his survey to capture the changing zeitgeist.
"We saw that there was a shift in the social climate," he says, "and we wanted to ask the teens in our study whether they were stressed about the apparent shift that was happening. So we added some questions, but we didn't expect the social climate to intensify like it did during the election."
In 2017, after Donald Trump was elected and sworn in, the survey results changed dramatically. Leventhal noted some increases in the number of teens that reported feeling "very or extremely" stressed, concerned or worried about the social discrimination. The amount of teens feeling stressed increased from 13.9 percent to 15.5 percent. Those who felt concerned increased from 41.5 percent to 44.6 percent, and those who felt actively worried about discrimination increased from 29.7 to 34.7. These statistics aside, what concerned Leventhal even more was that these concerns over the social climate were linked to behavioral changes, like increases in alcohol and drug use as well as cases of ADHD.
"The more than they were concerned and stressed, the greater their subsequent health behavior problems were," Leventhal says. The new paper shows that increases in concern over social discrimination were linked with as many as 77 percent more days of cigarette smoking per month and a 12 percent chance of presenting with ADHD symptoms.
Leventhal has an idea why these observations have surfaced in his research, and it's not exactly uplifting. "They may be concerned that their futures might be fairly bleak in terms of advancing in their career and in their social status," Leventhal. "They're seniors in high school and their on the cusp of adulthood. That bleak outlook could make you more likely to take risks like use substances because you have less to lose," he says.
Though he admits surveys like his can't prove causality, it's worth noting that his Los Angeles-based sample was demographically diverse, including both minority students and non minority students, and as such the results should resonate throughout the nation. Leventhal argues that lawmakers should consider potential mental health effects on people in every corner of America, particularly when it comes to social policy.
"This social issue might have widespread implications not only for minority students or disadvantaged students, but potentially for almost everybody," he adds. "These policies could have implications for the health of teens and maybe that information could be useful to policy makers as decision-making processes happen."