NASA Map Shows How Much of America Is on Fire Right Now
The smoke continues to spread across the country.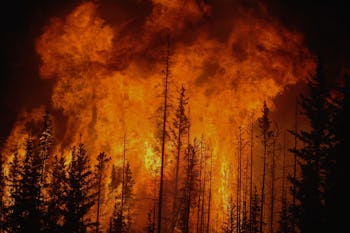 Wikipedia Commons
Wildfires in California are now a common occurrence during the summer months, also known as the state's fire season. Millions of acres of land are ablaze causing smoke to spread across the country according to new info from multiple government agencies.
The National Oceanic and Atmospheric Administration (NOAA) and NASA reported Monday 1.9 million acres are or have been on fire. The locations of the largest fires are on the West Coast of the U.S., specifically in California, Idaho, Nevada, and Oregon. As the blazes scorch one side of the country, the NOAA released an experimental map showing how smoke from the fires reached the East Coast and parts of Canada.
The map from the NOAA shows the upper level and near-surface level smoke captured on Sunday. Areas in red show where the fires are while the blue represents the smoke as it rides a jet stream reaching down into Texas north into Quebec, Canada, and as far east as Washington D.C.
It's no surprise that smoke can be harmful to a person's health, even if the fire is thousands of miles away. Those who have respiratory or cardiovascular issues should limit physical activity if the smoke in their area increases. Babies, children, and the elderly could also be at risk. The NOAA's site has an option to see the most recent movement of the smoke from the fires, although it advises using the experimental feature at your own risk.
As the case with the wildfires last year, California and other West Coast states are in peak condition to burn during the summer as there is less rain, higher temperatures, and winds that help spread the flames. So far, firefighters contained some of the largest fires, but August is the peak time for fire season, which can continue all the way to November.
For those expecting help from the federal government, they might forget about President Donald Trump providing assistance as he tweeted in early August that California governor Jerry Brown is limiting water. This ended up not being the case.